Speaking after Manchester United's comfortable 2-0 win over Crystal Palace, manager Louis van Gaal stated that captain Wayne Rooney is set for a more prolonged spell in the midfield on the back of teenage sensation Marcus Rashford's form.
Rooney impressive
Rooney is no stranger to the midfield role, having been deployed there multiple times last season as Louis van Gaal struggled to find a true balance among his strikers. However, the Dutchman admitted that he was pleased with his captain's performance on Wednesday.
Stating that Rooney was played "in a midfield role tonight" because of Crystal Palace's set up, van Gaal said that Rooney "again was the player who switched the play" and "I like that very much." Van Gaal said that while he, "did that last year so it is not something new" the manager admitted he was "very happy with the way he performed."
With Rooney in the midfield, United dominated with 66% of possession with van Gaal saying the only issue he had with team play was "we didn't score enough goals" and it should have been "five-zero I think."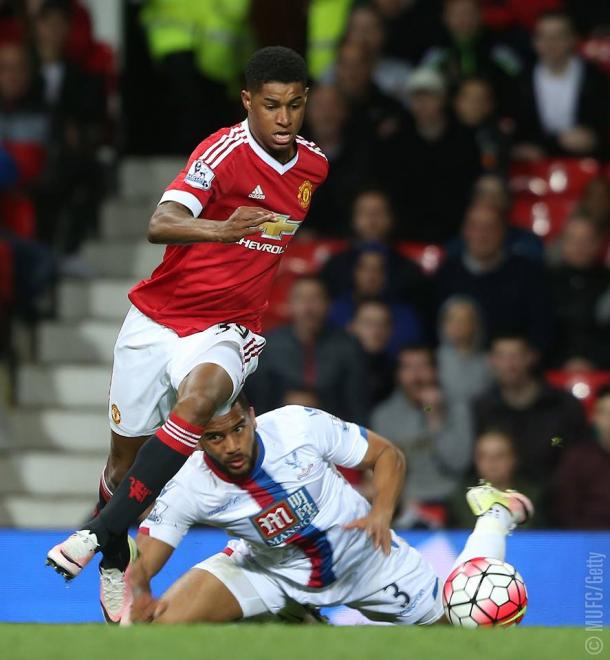 Rashford is clear choice
On the back of repeated strong performances in Rooney's absence through injury, Marcus Rashford has secured the role of first choice striker on the team sheet.
According to van Gaal, "no player has a fixed position" and that he uses players, "where I think they can give a higher contribution in a particular game" he nonetheless was clear about where he values the teenager.
"I don't want to change Rashford as a striker," Louis van Gaal said, adding that because of the striker's form in scoring four goals in eight Premier League appearances he had to, "look for another position for Wayne."
United are next in action on Saturday, April 23 when they travel to Wembley Stadium to take on Everton in the FA Cup Semi-Final.