Timothy Fosu-Mensah can emulate Bastian Schweinsteiger and make a positional switch in the future, according to manager Louis van Gaal.
Fosu-Mensah has put in a string of impressive performances at full-back in recent first team matches, perhaps most notably in the FA Cup quarter-final replay against West Ham.
Not just a full-back
However, Van Gaal refused to accept that the Manchester United academy graduate is definitely a full-back. Speaking to the club's official website, the Dutchman said that "you cannot say that a player is [just] a full-back", before adding "you can see qualities and you make a profile of positions and then you look at the qualities of a player and see if he can fit that."
Whilst Fosu-Mensah has fared well playing at both right and left full-back in recent first team outings, his emergence in that role came as something of a surprise to some supporters. After all, the Dutchman had mainly played as a centre-back or central midfielder whilst representing the club's youth teams.
Similar to Schweinsteiger
Van Gaal believes Fosu-Mensah can use that versatility to his advantage, though, and emulate the career path of United teammate Bastian Schweinsteiger.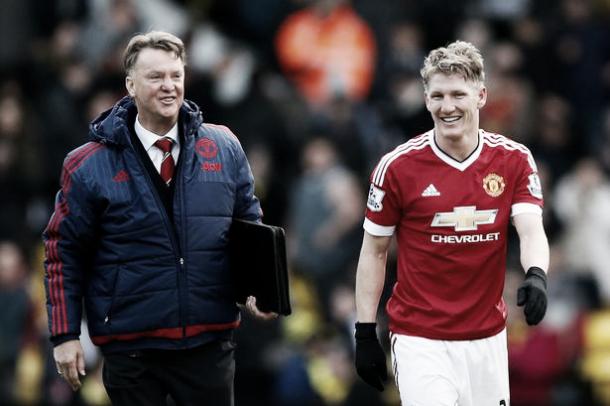 Schweinsteiger and Van Gaal worked together at Bayern Munich between 2009 and 2011, during which time the Dutch manager converted the German from a right winger to a controlling central midfielder. Commenting on that positional change, Van Gaal said that "I made him a centre midfielder because I looked at his profile and I thought that he can better play in the middle and he enjoys it more than on the right side."
Whilst Fosu-Mensah is yet to start a senior match in midfield for United, he was recently given a taste of the action in that role against Aston Villa. The Dutchman replaced Juan Mata in the final minutes of last weekend's 1-0 win against the now relegated Premier League outfit.
The Dutchman was uninvolved in Wednesday's 2-0 win against Crystal Palace at Old Trafford, but with Van Gaal having stated his intention to rotate his squad before that match, Fosu-Mensah will be encouraged about his chances of starting Saturday's FA Cup semi-final with Everton at Wembley.