David de Gea has been named in the PFA Team of the Year of the 2015-16 season. The Spaniard's remarkable display in net this season has earned him a spot for the second consecutive year in the PFA's Best XI.
Lone representative once again
Just like last year, de Gea is the lone Manchester United representative on this list. Last year, the squad was dominated by a Chelsea side which won the Premier League title, placing six players in the squad. This year, the team around de Gea is filled with Leicester City and Tottenham Hotspur players as the two continue to battle it out for the Premier League title. Each squad placed four players in the PFA Team of The Year respectively.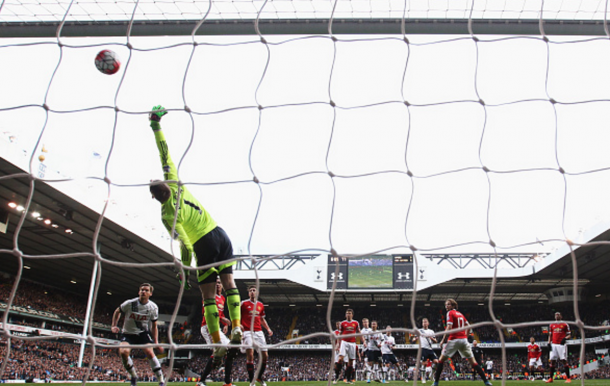 Long history in the PFA Team of the Year
Since the inauguration of the Premier League, Manchester United has had at least one player named in the PFA Team of the Year every year but the 2013-14 season. De Gea is the sixth Manchester United goalkeeper to make an appearance on this list, following in the footsteps of Peter Schmeichel, Fabian Barthez, Tim Howard and Edwin van der Sar. Van der Sar is the only player from that list to be named in the PFA Team of the Year more than once, 2006-07 and 2008-09.
De Gea has already usurped van der Sar's two appearances with his third appearance in the PFA Team of the Year. His first appearance was back in the 2012-13 season followed by the consecutive appearances these past two seasons.
It was a well-deserved honor for the Spaniard whose goalkeeping has kept Manchester United alive or ahead in many games this season. This season, the 25-year-old has tallied 77 saves and 14 clean sheets in 30 appearances this season.