According to a report published by the FA in accordance with FIFA guidelines, Manchester United by far spent the most on agents fees in England between 1 October 2015 to 1 February 2016.
United top list despite lack of moves
At £10,023,318 United top the list of what is now known as officially Intermediaries due to FIFA deregulation, roughly £3.35million pounds more than Liverpool. Rounding out the top spenders in the Premier League were Manchester City at £5.8m, Arsenal at £3.1m, Chelsea at £2.2m, West Ham at £2.6m and Tottenham at £2.5m.
United top the list despite not signing a single player during the January transfer window. A Manchester United spokesman said the £10m figure was the result of contract renegotiations, including with first-choice goalkeeper David de Gea, and staged payments based on previous transfers. United famously kept the star Spanish goalkeeper during the summer transfer window due to a miscommunication that included a faulty fax machine between themselves and Real Madrid.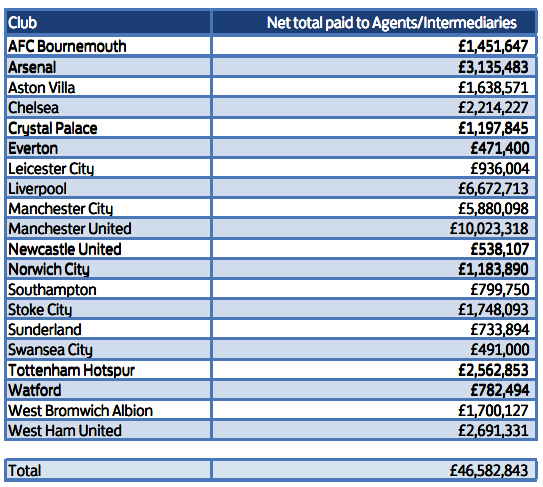 United spent more than the Championship
Despite not signing a player and the intermediaries fees being based simply on contract negotiations and past deal, the Manchester club spent more than the entire combined outlay of the Football League Championship, England's second level league. The entire combined amount totaled to only £6,985,109, over £3million lower than United's figure. The highest spending Championship club was the recently relegated Queens Park Rangers at £1,002,232.
FIFA instituted new transparency regulations in April 2015 regarding the dealings of agents and intermediaries - with agents becoming known officially as intermediaries. The body argued that the underhanded dealings with unlicensed agents were sullying the image of the sport and decided the national associations being the official regulators would increase transparency. Following the changes, intermediaries now need not to pass an exam to qualify, all that is needed is an "impeccable reputation" and a payment of £500 to register with the FA.