It wasn't pretty, it wasn't perfect, but it was vintage Manchester United with Anthony Martial scoring a goal in the closing moments to secure a FA Cup semi final victory over Everton. With the famous Man United now off to Wembley for the final lessons continued to be learned from the suddenly swashbuckling side.
Anthony Martial is the best United buy since Ronaldo
What more can you say about Anthony Martial? He was literally all over the pitch trying to make things happen, and when United needed him the most he did what he does best: took the ball to his feet, dribbled into Everton's defenders, and comfortably slotted the ball into the corner of Everton's goal.
The French sensation, who Louis van Gaal initially stated was a signing for the future, has had a remarkable Manchester United career thus far. Today's game was just another in a long list of performances where he proved that he can win a game for the team simply by having the ball at his feet.
Formation brought positive football
After spending all season in what some fans have called an almost negative formation, United once again deployed a variation on the 4-3-3 that was highly successful last season and brought success during the week against Crystal Palace. Though the goals haven't come flying, the positive play has certainly been exciting and produced tons of chances from all over the pitch. Tellingly, 22 shots were produced with 54% possession.
A ton of credit must go to Marouane Fellaini for once again stepping up big when he was needed. From scoring goals, to proving much needed cover at the back, the Belgian had an amazing game.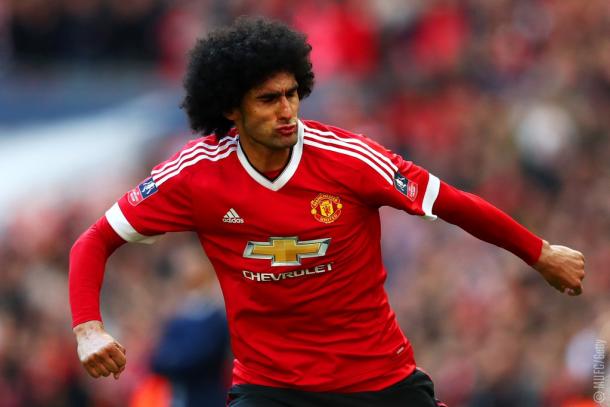 With Louis van Gaal coming under criticism from many quarters for not only a poor league record but a boring style of play, the swashbuckling style of play that has started to creep back in has been much welcomed by the United faithful.
United continue to pay for players out of position
It isn't hard to argue that Daley Blind has done wonderful this season playing as a centre-back for a defensive midfielder/wing back, but he's a symptom of a problem and not a solution.
While Marcos Rojo does play as a left back internationally he has shown time and again that he struggles when deployed in the position while not with Argentina. He was out of position on the own goal that United let in shortly after the 75th minute. Daley Blind as well was consistently caught out of position while not making the instinctual moves that a true, naturally bred defender would make in his position.
It should be mentioned that Wayne Rooney has shown much promise for possibly dropping further into the midfielder as he had another cracking effort as a deep threat. However the question remains should United be relying on players being played out of their natural positions?