Manchester United midfielder Michael Carrick said that he was almost left speechless after playing in the late victory that saw the Reds overcome Everton in the FA Cup semi-final at Wembley.
Carrick says he was delighted to play in such a dramatic game against Everton
Anthony Martial scored a wonderful winner in the 93rd minute of the game which saw the Reds make it through to the final. The game looked like it was heading to extra time after Chris Smalling scored an own goal late in the second half but up stepped Martial and Carrick says he was delighted to play a part in such a dramatic game.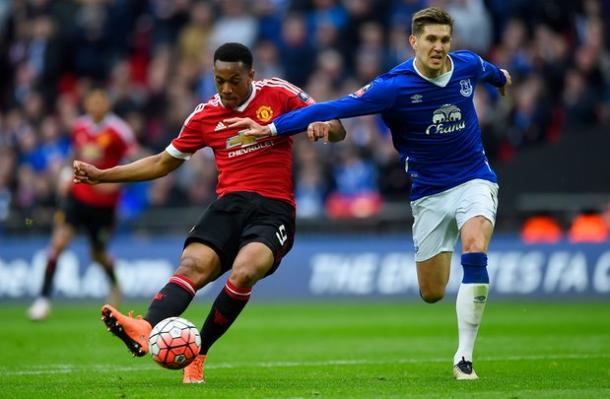 Carrick speaking to MUTV said "I can't remember the last time I had a feeling like that" as it has been such a long time since United won such a big game like that right at the end of the game. Carrick described it as a "phenomenal feeling" and that the game was "crazy" but he felt that the team "dominated" the game and deserved to go through.
Carrick says that he wasn't surprised that Everton came on fighting in the second half
The first half saw United in real control of the full game but the second half was a different story. Carrick said that Everton "came out fighting in the second half" as they knew they had to "throw everything at us" but the main thing was that the team managed to come through it and win.
The midfielder continued to say that "we knew we just had to be patient" and ride the Everton storm in the second half and when they did score United "settled down" again. Carrick, though, feels that "it doesn't matter" that Everton could have won it in the second half and he feels that the Reds won it in "the best way possible with a last-minute goal".
Carrick says that it would be fantastic to win the FA Cup but he's not getting carried away
United haven't managed to win the FA Cup since 2004 so it would be amazing if the club could end that run this season. Carrick echoes these calls and knows that United need to be winning these type of competitions on a regular basis as United used to do to years ago.
Carrick says that "it would be amazing to win the FA Cup" but for now it is important to not get "carried away". United now have some very important matches coming up in the Premier League as they try and secure Champions League football for next season.
Carrick said that United would enjoy the night of the win but United will "start afresh in a few weeks" after they finish the league games.
United will play Crystal Palace in the final on May 21st at Wembley, a game they will be favourites in but it is also a game they should only think about in a few weeks time.