This weekend, Manchester United and Crystal Palace won their respective FA Cup semi-finals against Everton and Watford and set up a repeat of the 1990 final some 26 years ago. For most United fans, and no doubt Sir Alex Ferguson, when Palace prevailed against Watford it brought back immediate memories of the start of Sir Alex's incredible trophy haul.
It was so long ago, most people only remember that United won it, and maybe forget the circumstances that surrounded it. In what had been a difficult season, this was United's opportunity to pick up their first silverware for five years, and in the process ensure Sir Alex kept his job. They managed to do that, but not without a tremendous struggle that needed a second game to settle it, after a fantastic, topsy-turvy turvy 3-3 draw at Wembley in the first game.
Palace had drawn and beaten United in the League, and had knocked Liverpool out at the semi final stage. United had finished a lowly 13th, and Palace finished two places below them in what was their first season back in the top league. Despite this, United started huge favourites. Yet they were only seven minutes away from defeat in the second period of extra time. Mark Hughes did what he did so often, performed on the big stage and took the game to a replay.
Near defeat prompted ruthless action
The stakes were high for Sir Alex. He had to win. Knowing they were so close to defeat must have prompted him to make one of the biggest and toughest managerial decisions of his career in dropping one of his loyal servants for the replay.
Jim Leighton had been part of the Aberdeen success story that got Sir Alex the United job, and in 1988 the manager returned to Pittodrie to secure a top class goalkeeper. Since Gary Bailey had retired, it was a position that had been a problem with Chris Turner and young Gary Walsh not being able to bed down the position. Leighton came in for a sizeable fee, and instantly became the number one.
He only conceded one goal in his first six games, in a 1-0 defeat at Anfield, and only conceded more than two in a game once during the season. He gave United a bit more assurance at the back, so by the time the Cup Final in 1990 came around, Leighton was at the end of his second season. However, his bright start had faded and a number of costly mistakes meant he was now the butt of some jokes on the terraces.
He had been dubbed "Dracula" because of his aversion to crosses. He was agile and a great shot stopper but he seemed to develop a weakness when it came to dealing with crosses, and he had made a number of basic errors that had led to goals. Still, there appeared to be no disputing he was still the No.1, probably because there wasn't much competition.
Sealey built up a rapport with fans
Turner had been sold to Sheffield Wednesday, and the promising young Walsh's career would be curtailed by a number of injuries. In December 1989, Ferguson brought in the experienced Les Sealey in on loan from Luton Town, but he was seen as an experienced back up and no more. Sealey played two games toward the end of the season, and in the home game with Aston Villa, a connection was struck with the Old Trafford faithful.
It's not clear why it happened, it was probably because he was such a huge character, his personality came out in his goalkeeping. He looked confident, and had United fans eating out of the palm of his hands singing his name. Apart from one other game against Wimbledon, where a young Mark Bosnich made his debut, Leighton returned to the fold and played in the remaining games leading up to the Cup Final.
It was to be a chastening experience for Leighton, and despite all the wonderful service he gave to his clubs and the multitude of trophies he won, the 90 minutes against Palace would be almost career defining.
Leighton's misjudgments costly
The game was a tight affair, and Palace scored from their first real opportunity. They were a talented team, but were also a physical bunch. Their goal came from a free kick on the right hand side of the penalty area, but owed as much to Leighton's indecision as to the ball in. It was a superb in-swinging free kick, but Leighton made an early decision to come for the ball. He had no chance with so many bodies, and as he got to the edge of the six yard box he froze, realising he couldn't get there.
Gary O'Reilly won the header and it looped over the stranded goalkeeper and drifted towards the net. Leighton back pedaled and made a desperate attempt to claw the ball back, but both he and Steve Bruce were unable to prevent the ball crossing the line.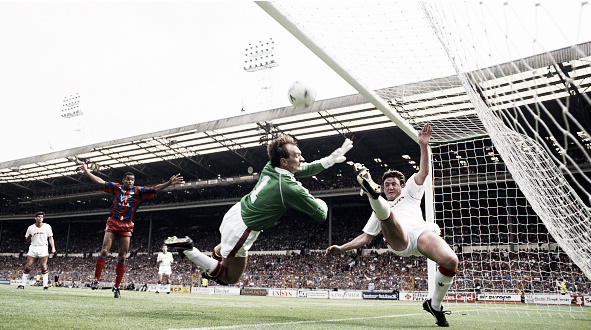 It may sound silly, but the way Leighton tried to recover from his mistake almost amplified it. Had he accepted he was beaten by the header and acted a bit more nonchalantly, then he would still have had to take the blame, but it wouldn't have looked so clumsy.
Despite the set back, both Leighton and United composed themselves and eventually started to impose themselves on the game. A Bryan Robson equaliser 10 minutes before half time settled them further. Just after the hour mark, Hughes put United in front and it looked like United were heading for the win reasonably comfortably. However, Ian Wright was introduced and made an immediate impact. He turned Gary Pallister inside out, and fired past a helpless Leighton to restore parity.
With Wright on the pitch, Palace were always a threat and the game was in the balance as it went into extra time. At the start of extra time, Palace went in front once more and again the goal owed much to Leighton's inability to judge a cross. The ball was played out to the left wing where John Salako held it up. He checked onto his right foot and played and excellent centre to the far post.
As with the first goal it was an inswinger, and as with the first goal, Leighton's initial movement killed him. He was positioned at the near post, but as the ball was flighted he makes a slight movement forward as if to claim it in the centre of the six yard box. He immediately realises he is not getting there, and frantically scrambles towards the far post. Unfortunately for him he never got near it, and Wright volleyed into the unguarded net for his second of the game.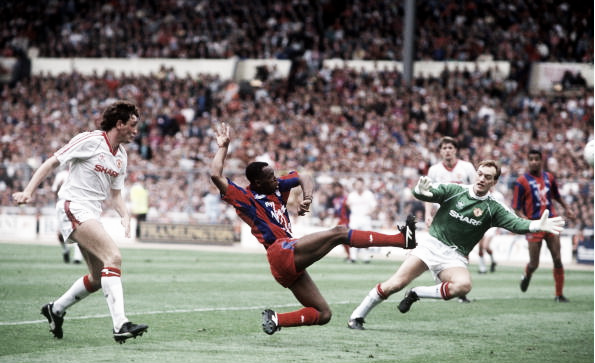 As the minutes ticked down, the agony for United fans was palpable. What seemed like United's trophy on paper was now slipping away, and there is no doubt that Sir Alex would have been as concerned as any fan. Hughes came to the rescue, but when the dust had settled, Leighton ended up being the fall guy.
It shows just how much Ferguson wanted to win that he was prepared to replace one of his stalwarts with a loanee (soon to be free transfer) from Luton Town. He did, and that decision won United the FA Cup. The uncertainty with Leighton in goal had got too much, and Sealey seemed to calm the whole defence. He also made a crucial save at 0-0 in the replay.
Leighton would lose his place permanently to Sealey and would only play one more time for United in a League Cup tie. To be dropped for a Cup FInal replay must have been a terrible blow. It certainly fractured his relationship with Ferguson permanently, but in truth it was the correct decision. Although he was a fine 'keeper, he had made too many high profile mistakes and two more in a Cup Final was the final straw.
Manager similarities but not goalkeeper
As United prepare themselves for Palace once more, there is a similar feel to 1990. Once again United will be the favourites after a disappointing season. They will not finish as low as 13th, but Louis van Gaal is under as much pressure as Ferguson was. The final is massive for United, and defeat is not an option for van Gaal. It would almost certainly cost him his job.
Where the goalkeeper is concerned, there will be no repeat. Even if David De Gea were to make a mistake or two in the final, he has proved himself to be one of the best in the world in the last couple of years. He has saved United time and time again, including in the semi final. His fate will not go the way of Leighton.
The rules have changed since 1990, and how Leighton must wish that the replay's had been abolished long ago. Without a replay, he may well have ended up a loser and he may well have carried the can for defeat but without the ignominy of being dropped. Then again, he may well have saved a penalty or two and redeemed himself and his reputation.
The final was a catalyst for United dominating the English game, when Sir Alex takes his seat for this years final, no doubt he will recall the replay with much fondness. The same cannot be said for Leighton, and it would be a surprise if he even tunes into the game.