Manchester United love a title party. They have enjoyed 13 of them since the First Division was rebranded as the Premier League. Despite their dominance, the first time United actually won the title at Old Trafford was in the treble winning season of 1998-99. In total it has surprisingly only been won at the Theatre of Dreams on four occasions - and one of those was won by the visitors Arsenal.
Leicester can make history
On Sunday, it could be five. Alas, for all concerned with United, it won't be United's players holding the trophy aloft once more. The remarkable Leicester City have the honour of playing in the fixture with a chance to secure the title. Only Tottenham Hotspur can prevent Leicester from winning the title, but should Leicester come out victorious on Sunday, then they will be out of sight and the league is their's. The incentive is clear for all to see.
The Foxes will do what they have done all season, and come out all guns blazing, but United are not in a position to roll out the red carpet and hand it on a plate. They have their own agenda. As bizarre as it may seem, United probably have more to play for than Leicester. Currently in fifth position, United have to win their remaining games to stand a chance of securing one of the Champions League positions.
Spurs drew with West Bromwich Albion on Monday meaning Leicester have a seven point cushion at the top. The North London club are almost guaranteed a Champions League place, barring a collapse in the last three games. Manchester City and Arsenal are five points behind Spurs but have to face each other in one of the remaining fixtures meaning at least one team will drop points. With United in fifth place a further five points behind, but with a game in hand, there is still a huge carrot being dangled.
So United have it all to play for. Not that you would expect United to just lay down even if there was nothing riding on the game for them. In 1990 with the season coming to a close, Aston Villa turned up at Old Trafford for a midweek game and still had a chance of overhauling Liverpool for the title. United were floundering in mid table. There was no thought of allowing Villa a free ride and a Mark Robins brace secured a 2-0 win and ensured their biggest rivals would win what was to become the last of their title wins.
United have plenty to play for
If United can give their all and in doing so help Liverpool, then Leicester should not expect an easy time of things on Sunday. No, United will be playing for a Champions League place, for their managers job, for their own futures, for a place in the FA Cup final and above all else for pride.
If their own ambitions do not make United perform at the top of their game, then maybe the one title won at Old Trafford by the visitors should be motivation itself. In 2002, Arsenal came to Old Trafford with a five point advantage and only one more game to play after the United clash. It was always unlikely that United would be able to overhaul Arsenal with them holding such and advantage, but preventing them from winning at Old Trafford was paramount.
In a feisty encounter, United certainly never gave up without a fight, but Sylvan Wiltord scored the only goal of the game and you have probably never seen Old Trafford empty so quickly after the final whistle. The rivalry with Leicester is nothing compared to that of Arsenal, especially at that time, but seeing someone crowned champions on your own patch must have hurt.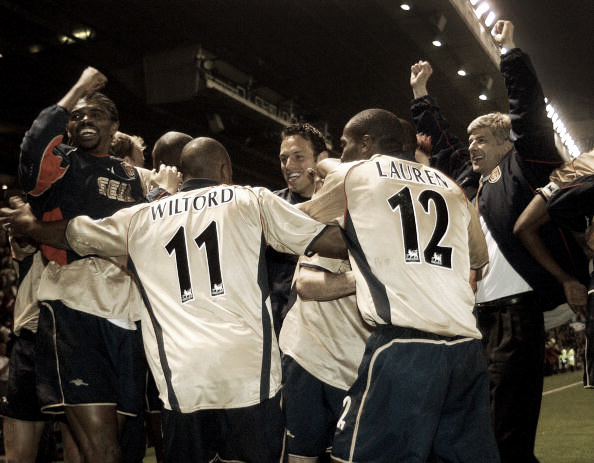 Only Ryan Giggs will be able to remind United's players about that night, and no doubt he will. The players have changed, the opponents have changed, but the result has to change. United have to spoil the party.
Jamie Vardy, one of Leicester's outstanding performers, will be absent through suspension once again. A few observers thought that his absence would affect Leicester last week against Swansea City, but they blew the Welshmen away 4-0. They have surprised people all season, so nobody should be surprised if the Champagne corks are popping once again on a Sunday evening in Manchester, M16.