Even though the game plodded to a slow chess match in the Manchester rain, Manchester United proved that they can still be a dangerous team on the attack when needed against a scared Leicester City.
United can still go for the jugular
The beginning of the game was completely Manchester United, capped off with an excellent effort by Anthony Martial in a picture perfect goal off a cross from Antonio Valencia. With the team hitting nine shots with three on target in the first half, Leicester City were in a constant mode of panic which resulted in Martial's goal. The attack promise showed by United in the first 16 minutes showed every message of intent that United have lacked at times this season. With the team lining up in a 4-3-3 Wayne Rooney was a vital piece in United's thumping attack as he continued to exert heavy influence as a central midfielder.
Unfortunately, after conceding in the 16th minute, United did not look deadly in attack until the final ten minutes as the traditional Louis van Gaal style of "not losing" came to shine again until it was obvious Leicester were toothless and running on fumes. The team can still attack, and if it wasn't for Juan Mata being a few inches too short the game may have ended completely in Manchester United's favour.
Fellaini and Rojo are liabilities, again
Another game, another wild elbow thrown by Marouane Fellaini. Immediately pilloried by the press while the elbow was thrown in response to his hair being pulled a sad pattern has continued in which the Belgian has a decent game marred by violent conduct that consistently puts the team at risk of playing a man down. With rumours swirling again that teams such as Italian contenders AS Roma chasing the big man, it may be time for United to cut their losses as Fellaini more often than not puts the team in a bad situation without much upside.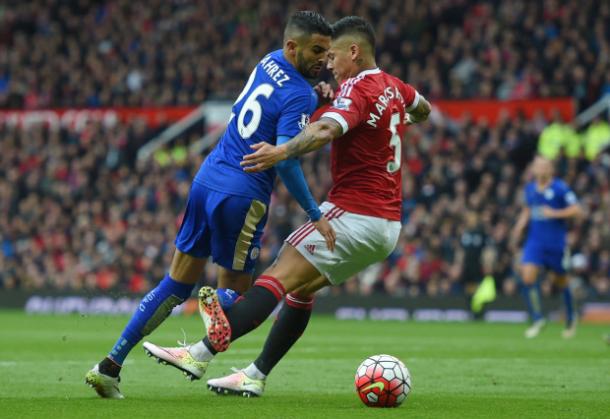 Marcos Rojo, on the other hand, continues to prove that the only thing he brings to the team is mediocre efforts and rash play. Rojo should consider himself lucky that he didn't concede a penalty kick to Riyad Mahrez with a stupid kick out in the box. Connecting on only 81% of his passes, failing on all three crosses into the box, and having only a 57% tackling success rate Rojo was poor.
At the end of the day, Manchester United prevented Leicester City from winning the Premier League title at Old Trafford, while showing the promise once again that Louis van Gaal has been dedicated to delivering. Once again, though, it was a matter of one step forward and one step back.