Manchester United captain Wayne Rooney has stated that he was disappointed that the Reds ended up with a 1-1 draw against Leicester City, as he felt United were the better team during the game.
Rooney frustrated United couldn't manage to score a winner against Leicester
United came into the game with the Foxes at Old Trafford knowing they had to win to keep up their quest of trying to finish in a top-four place. The Reds started the game well and took the lead when Anthony Martial gave them an early lead, but Wes Morgan headed an equaliser for the soon to be champions Leicester.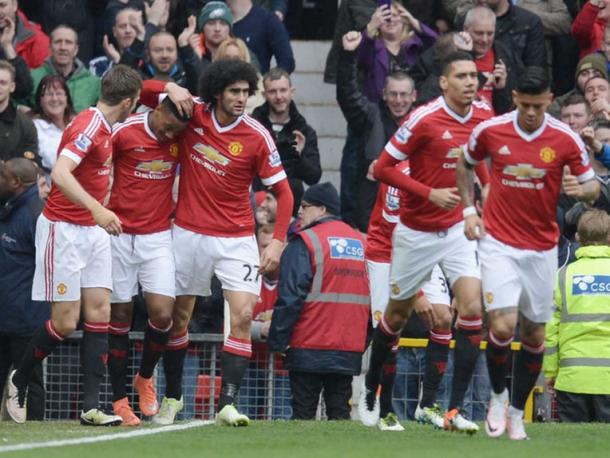 United continued on but couldn't find a winner and Rooney was disappointed as he knew how important it was for the team to get the win.
The United captain speaking to MUTV said "we're are a bit disappointed" as he thought United "were the better team" during the game. United came out of the traps fast against Leicester and Rooney felt that the team played "some good stuff today" but unfortunately it didn't give them the rewards.
Rooney admitted it's going to be tough to get a top four place
Rooney continued to say that he felt the team "played at a high tempo" throughout the game and the only thing missing from the performance was "that second goal." The problem the draw has caused now according to Rooney is that it is "going to be tough to get in that top four" which was the aim at the start of the season.
United go into their last three games four points behind Manchester City in fourth place with a match in hand and the hope is that City will drop points in their final games as well. Rooney says even though it will be tough to achieve Champions League football the team will keep on fighting to the very end.
Rooney says the Reds will fight until the end to try and achieve their goal
Rooney feels that the team has "hit good form towards the end of the season" which may have come too late and now United have to rely on "other teams." The striker says that it is "going to be tough for both Arsenal and Manchester City" to drop points that will let United sneak in.
The United captain though says that "we just have to keep working hard" and work on taking "maximum points until the end of the season." If that is not enough to get a top-four place, then it will be down to what happened in December when the team went on a bad run of form.