Marouane Fellaini has been charged by the FA for an alleged elbow on Leicester City's Robert Huth during Manchester United's 1-1 draw with the Foxes at Old Trafford on Sunday.
Fellaini charged for Elbow on Huth
The charge relates to an incident with Huth during the first half of the game, Fellaini throwing an elbow into the face of the Foxes defender. Huth has also been charged for pulling Fellaini's hair which led to the incident with both players now expected to miss three matches each.
Fellaini has until 6pm on Wednesday to respond to his charge but if he does appeal and it is rejected the FA could add an extra game onto the three he is likely to get. Fellaini would, therefore, miss the FA Cup final on the 21st of May against Crystal Palace so for him it would be better to accept what he is given.
Fellaini likely to get a three game ban
The midfielder is likely to miss the games against Norwich City, West Ham United and Bournemouth in the Premier League, which will be bad for him as he was just getting into a good run of form for the club. Fellaini has been used by Louis van Gaal in the biggest games this season with the midfielder doing well in an advanced role.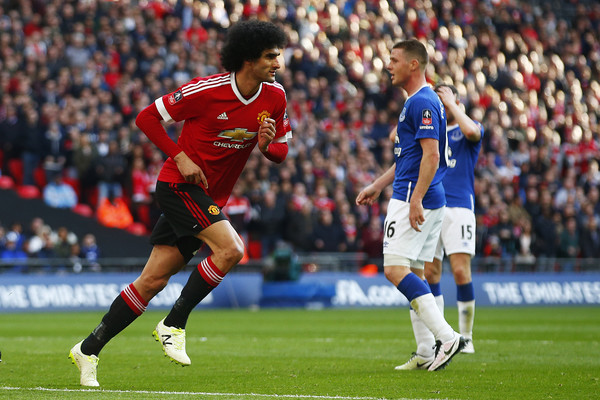 The problem that Fellaini faces is that it is not the first time since he came to England he has been charged with this kind of incident so his reputation is one that will get him in trouble. Fellaini is a player that likes to use his physical presence in the box which unsettles opposition players.
Fellaini won't get the chance to impress before the FA Cup final
The Belgian midfielder will be sweating on his place for the FA Cup final as with not being able to play in the next three games he doesn't get the chance to show van Gaal what he could offer the team at Wembley.