Former Manchester United midfielder Roy Keane says that the Reds lack character and to regain the Premier League trophy they need to address this issue in the summer.
It was natural there was going to be a blip, says Keane
United are in real danger of missing out on a Champions League place for the second time in three years, which is not acceptable for a club the size of United. Keane, therefore, says his old club need to look at themselves and get some character into the team or else things could get worse.
Speaking to Beyond the Pitch, the former Reds midfielder said "I wouldn't say I have sympathy for van Gaal" but when things aren't going well at the club "I don't like to see managers get heavily criticised." Keane was part of seven league title wins under Sir Alex Ferguson and he says it was always going to be difficult when Ferguson left the club.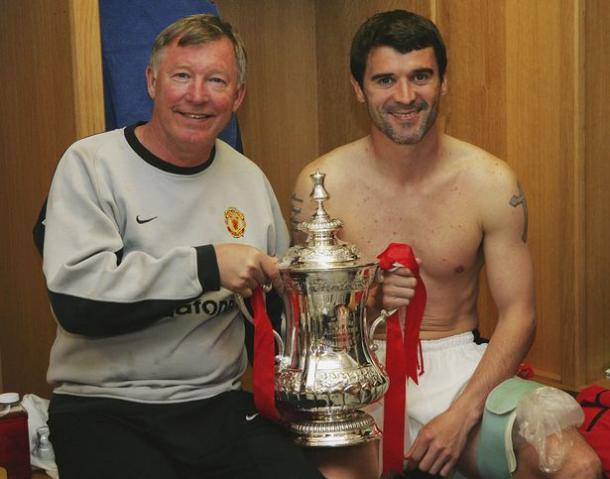 Keane says that it "was always going to be difficult, even for David Moyes" when Ferguson left as the success that the Scottish manager had was unbelievable but "it was always natural there was going to be a dip."
The younger players coming through are a good sign for United, says Keane
Keane feels that there have been "some good signs over the last few months" that the club have some good younger players coming through as it will only make the team better.
There have been a lot of reports that Louis van Gaal will keep his job if the team manage to win the FA Cup final against Crystal Palace this month, something most fans are not happy about. Keane though feels it would be the right decision to allow van Gaal to see out the remainder of this contract at the club if he oversees an FA Cup triumph.
Keane says a FA Cup win is likely to see van Gaal see out his three-year contract
Keane thinks that "if United can win the FA Cup" then for him he sees no reason why the club "wouldn't let van Gaal finish out the last year of his contract." The Irish assistant manager continued to say that winning the FA Cup "might give van Gaal that bit of breathing space" to complete his three-year contract.
The problem though according to Keane is that for the club to continue to win trophies, then United need "two or three characters" so that team when struggling can "grind out results." The former midfielder continued to say that currently the team doesn't have "enough characters in the team" so they are not able to challenge and "win league titles."