After a sensational breakthrough season for Manchester United youngster Marcus Rashford, former Brazilian star Ronaldo has been added to the list of people to praise the much talked about striker.
Ronaldo says Rashford reminds him of himself
Rashford, previously labelled by manager Louis van Gaal as having a similar style of play to Patrick Kluivert, has now had the ultimate compliment from Brazilian legend Ronaldo, who compares the talents of the 18-year-old to himself.
"I see some of myself in him for sure - he has courage and he's fast and is very good with the ball," said Ronaldo in a recent interview with the Sun. "I think for the strikers they have to be hungry to score and I see that with him."
Ronaldo then went on to talk about some of the attributes of Rashford "he has courage, and he's fast and is very good with the ball." A lot of praise to add to the forever growing confidence of the youngster.
Rashford has an "amazing future"
Ronaldo claims that the striker rising through the United academy has a very bright future ahead of him if he continues to work hard. Scoring seven goals in his 15 games for the first team supports this fact that the youngster does have a huge potential to become a great player.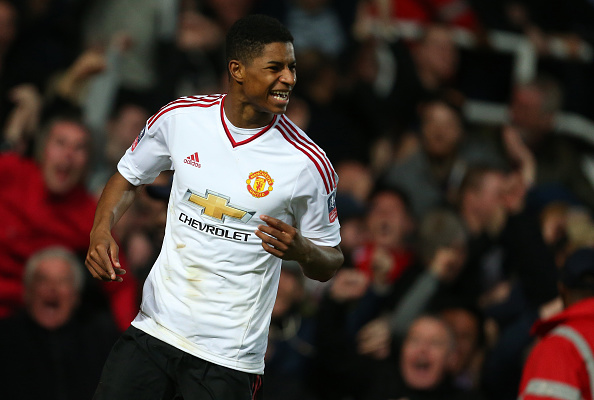 Sky the limit for the 18-year-old?
After a season that has seen Rashford breakthrough to the under-21's first team, followed by becoming a first team regular in Louis van Gaal's squad, surely not even Rashford himself could have dreamt it to go so well.
As England manager Roy Hodgson looks to select his squad for Euro 2016, Rashford's form means that the 18-year-old is a player that surely can't be ignored, if not selected. Many people believe that Rashford deserves a chance for his national team after his unbelievable form for his club side, the media have him down as an outsider to get into Hodgson's plans.
With only three games left in United's season, including an FA Cup Final, Rashford will be looking to continue his impeccable form to try and cement himself into the plans for United's first team ahead of the likes of Memphis Depay, Adnan Januzaj and Ashley Young for next season, no matter who is in charge of the club come August.
Starting week in, week out and scoring goals at one of the biggest clubs in European football will ensure the praise will be continued to be heaped on the youngster, but can he reach to the levels of quality of the likes of Kluivert and Ronaldo? Only time will tell.