Once upon a time, if you won the FA Cup as a manager, you went down in history, your job was safe. Ask John Sillet, or Bobby Gould. Ron Atkinson and Sir Alex Ferguson were the last managers to win it with Manchester United. Atkinson did it twice, Ferguson five times. Those wins never defined their United careers, but the first one at least meant they became heroes.
FA Cup wins were special
In 1983, Atkinson's victory over Brighton & Hove Albion gave United fans hope that the long wait for a League title victory was soon to be over. He wasn't able to take his flamboyant team on to the next level, but he left fond memories. Sir Alex was under so much pressure when triumphing over Crystal Palace in 1990, it is hard to believe that it was a must win game. The victory bought him time. Fans were unhappy with league performances under Ferguson, but a first trophy for five years brought smiles to faces.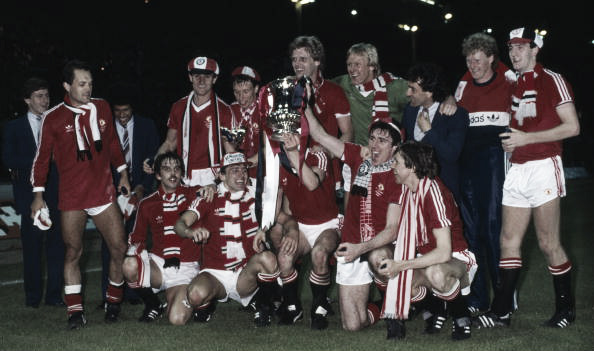 On May 21st, Louis van Gaal can make history and join the illustrious managers before him that have secured silverware for United. Should United prevail, ironically against Palace once more, then it is possible that he also may have a stay of execution as a result of an FA Cup win. Times have changed. Speculation has surrounded the managers position for most of this season. Although sacking a manager after winning a trophy seems harsh, if United miss out on at least fourth place, then it is probably correct.
Two seasons ago, United's season ended in early April. The league had been a disaster, and the Champions League exit at the hands of Bayern Munich meant a string of 'dead rubbers' to play out the season. Ryan Giggs taking over as manager provided some sort of interest, but United normally are involved to the end of a league campaign. Last year, that was the case, except they were going for fourth place only. The made it, but they fell over the line. They won only one of their last six games, so they were fortunate that nobody really pushed them.
United have to beat West Ham
If United beat West Ham United in midweek, then they will go into the last weekend with a chance of a Champions League place, regardless of the result between the teams above them, Manchester City and Arsenal. In all the title fights United have been involved in down the years, the mantra was always the same. Win your games. Forget about what the others are doing, just win your games. If you are relying on others, then it is out of your hands, but don't be kicking yourselves if the opposition slip up, and you haven't done your job.
If United miss out, then they only have themselves to blame. In the most extraordinary season anybody will ever see, United have not been alone in their failings to this point. Far from it. Tottenham Hotspur have been lauded this season for their title challenge, but what challenge? They never got close to Leicester, despite being very good this year. As for the rest, they have been woeful. However, for United to salvage some pride, they have to win their own particular race.
They can do it, but having had their 'holy grail' in their hands a number of times this season, they have not been able to cement it. It is questionable whether this team have the appetite for it. The Leicester City game at Old Trafford was possibly the last straw. A run of four wins - including two thrilling FA Cup games against West Ham away and Everton at Wembley - meant they went into the Leicester game with huge confidence, and probably more riding on the game.
A defeat for Leicester would not have altered anything, they would have still won the title, yet anything other than a win for United could have meant they almost had no chance of fourth place. United looked like they meant business, but from the minute Wes Morgan equalised for Leicester, you sensed the confidence slowly drain out of United. Two more points dropped.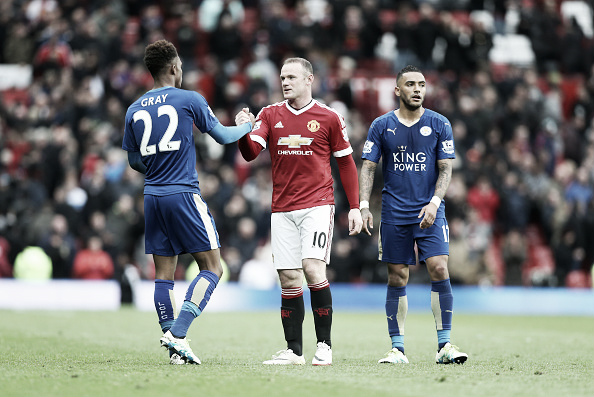 It may seem arrogant to think United, in this season especially, should steamroll Leicester. When you consider what was at stake, then it shouldn't be seen that way. The stakes were higher for United, and this was not only a chance to help their own ambitions, it was a chance to lay down a marker for next year. Leicester, being wonderful Leicester, did not read the script.
Their story is to be enjoyed over and over, but whilst it should be an example for every team regardless of stature to show what can be achieved, it should be a sense of embarrassment for the 'top six'. United haven't been the worst of those, Chelsea can take a bow there, but there is another aspect to Leicester's title victory that should also be an indictment on van Gaal and his team.
The cynics are pointing to the fact that Leicester had no European distractions as a major factor in their miracle. It must have been a positive, but at the same time that is nowhere near the only reason why they won the league. Still, if that were the main reason, then rewind to when van Gaal took the reigns at Old Trafford. He also had no European distraction, and thanks to MK Dons only had one domestic trophy as a side issue. He never got close.
It is always a hard choice. Winning a trophy or fourth place. The romantic says a trophy every time, the pragmatic fourth place. If United fail to get fourth place, then some glory at Wembley is not going to paper over the cracks that still exist. All of that is under the assumption Palace don't have their say at Wembley. Not even van Gaal could survive that.
For van Gaal it is not one or the other, it is both. If they can oust City, or even Arsenal, for fourth place, he may do a Houdini act. Big Ron won the FA Cup twice, but when it was clear he could not sustain a real title challenge, it was time to pack his bags.
United fans want United to win, and you would accept van Gaal if he could turn United into winners. If he can't get united to fourth, then he is not the man to make United great again. If that's the case, then you may as well watch Big Ron's also-rans. At least they played with some panache.