Manchester United's Juan Mata has blamed injuries for their slow start at Carrow Road in their 1-0 win over strugglers Norwich City.
Huge blow in warm-up
It was Mata who proved to be the difference in East Anglia with his single goal in the second half keeping their Champions League ambitions alive.
It was a tough start in the lunchtime fixture with top scorer Anthony Martial been ruled out in the warm up and full-back Matteo Darmian been forced off in the 18th minute and the Spaniard said that had a huge effect on the club's early performance.
He told manutd.com that it was "not the best way to start the game" and that the young French striker is "very important" to the side as well as Darmian. Mata hopeful "they are fit" for Tuesday's trip to West Ham United.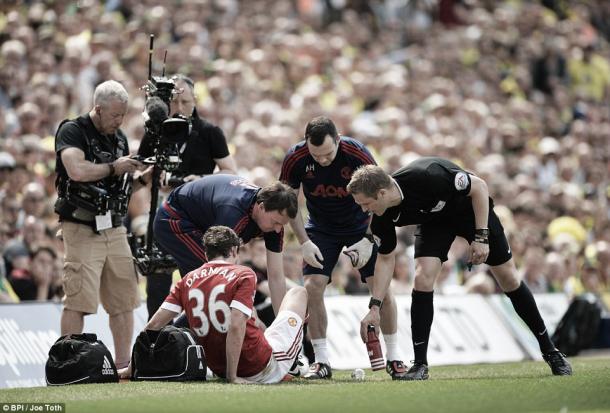 Mata insists it was for the fans
Mata has had a resurgence under Louis van Gaal especially in the second half of a campaign that has been disappointing for the Red Devils and Mata is hopeful that the side can secure a top-four spot and the FA Cup to reward the fans.
Mata said that it is "very good" to score in the goal "closer to the away fans" and the side do "everything for the fans".
He continued saying that they have had a "difficult season" and that they "deserve happiness" and is hopeful that they can "get into the Champions League" and "win the FA Cup for them".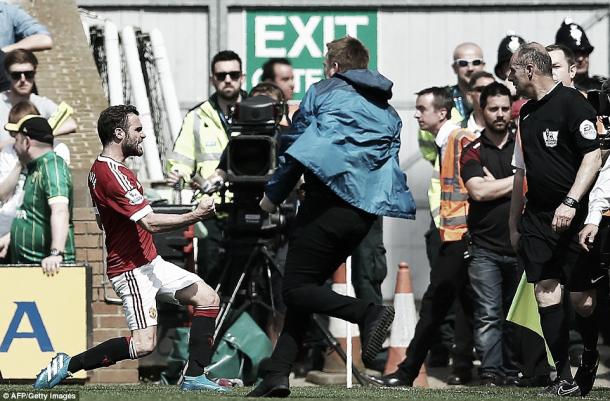 Special atmosphere
United's game in hand is set to be a special one as they head to the capital to take on West Ham United in the last game at the famous Boleyn Ground and Mata said that he is looking forward to the special atmosphere and is hopeful to record a famous victory.
He said that Tuesday's game will be "very special" and that the Hammers are a "great club with a great history" with a "very good stadium" and "always create a great atmosphere".
Mata continued saying that the side know that is "going to be tough" and is hopeful that United can say that they win the "last game in the stadium".
Manchester United will visit West Ham United in the final game at the Boleyn Ground on Tuesday, May 10 with kick-off at 7:45pm BST.