So often in the past decade of Manchester United's history, on-field performances have matched off-field success. Now, it is the off-field success leading the way over a disappointing season on the pitch. The annual Forbes rich list sees the Reds bottom of the traditional top three of United, Real Madrid, and Barcelona.
Real Madrid topped the well-regarded list for the fourth consecutive year while Barcelona followed very closely behind. Manchester United's value increased by 7% on last year despite a poor three seasons under David Moyes and currently Louis van Gaal.
Manchester United named 3rd most valuable football club
Spanish champions Barcelona were valued at £2.46billion, just less than their rivals Real Madrid's £2.52billion. United, who have been competing with the two Spanish giants for the last decade or so for the top spot in world football, are currently valued at £2.3billion by Forbes.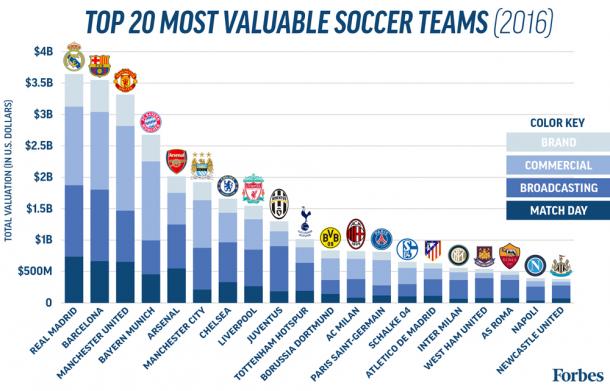 All three of football's biggest clubs are in the top five of sport. Only the Dallas Cowboys of the National Football League in America rank higher, at $4billion, than Real Madrid, Barcelona or Manchester United. The New England Patriots are the fifth most valuable sports team.
6 Premier League teams in top 10 of Forbes rich-list
While United's on-field failure has yet to play a part in their value, they could see the gap to the two Spanish teams increase over the coming years. Both are set to modernise their stadiums, already two of the biggest in world football, which will allow them to make even more revenue in future. Manchester United, meanwhile, have not expanded their stadium Old Trafford since 2006, partly due to the difficulties of doing so with a railway running behind the smallest stand.
The rich-list is dominated by English football teams. While the two La Liga giants lead the way, closely followed by Manchester United, there are six Premier League sides. Arsenal, Manchester City, Chelsea, Liverpool and Tottenham Hotspur join the Reds.
Arsenal have climbed into the top five in football with a value of £1.4billion, behind Bayern Munich's £1.85billion.