Manchester United defender Luke Shaw is almost certain to miss the FA Cup final as well as Euro 2016 with England for him to fully recover from his broken leg.
Shaw hasn't featured for United since breaking his leg in September
Shaw had been hoping to make an appearance in the FA Cup final after being out since September after breaking his leg in the Champions League against PSV Eindhoven. The problem though is that he still hasn't trained with the first team as of yet as he bids to regain fitness.
Shaw has had to go through a torrid time to even get himself back on the training field as he began training with the U21s last week. There even were some people calling for Shaw to be taken to the Euros with England, but that has been shut down quite quickly.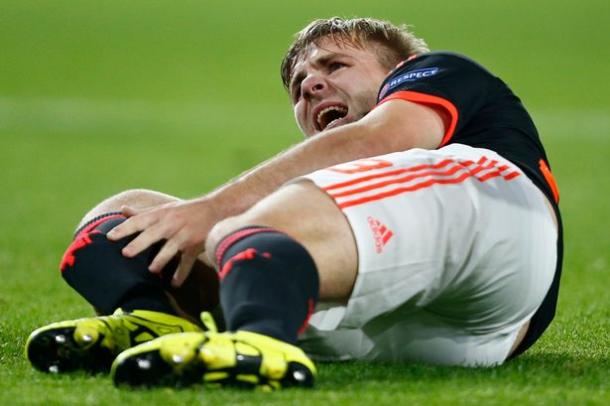 Defender set to return to training in June
On Wednesday, reports said that Shaw will not play again this season as he targets to return to full training in June. He had to have a minor operation on his leg three weeks ago to remove a screw that had been in place since he had surgery back in September to fix his leg.
Louis van Gaal only last month said that the defender could make an appearance before the end of the season, but now the medical staff at the club are getting him ready for pre-season. Shaw will, therefore, have to sit back and watch England in France, which is a huge pity for him.
No luck with injuries
Shaw has had a real tough time since he moved to United from Southampton in the summer of 2014, but he had started the season well before his injury. The defender had high hopes of having a good campaign before going to the Euros with England but unfortunately, it won't happen now.
It will be good in the long run for the young defender to have more time to get himself ready to make a return, as it could have been dangerous if he came back too early and aggravated his injury. Shaw has been a huge miss for United this season and by having him return to full fitness for the start of next season will be a big boost for the club.