The Smiths songs were often construed as depressing. They were written by their unique and brilliant frontman, Morrissey, and their genius guitarist Johnny Marr. One was a United fan, one a City fan. Both Manchester born, Morrissey supported the red half, and Marr was a blue.
In the early 80's Manchester was a humdrum town, and Britain in general had a dour feel about it. With Margaret Thatcher running the country, there was a wave of discontent. It was grim, and hardly surprising The Smiths were not writing uplifting tunes. In addition, neither Manchester club were exactly flourishing on the pitch.
Whilst Marr and City probably had more to feel sorry for themselves about, United were hardly pulling up trees and it is just possible the Morrissey was the main influence of the songwriting and United the target of his angst. Then again, maybe it wasn't 80's United he was writing about. Perhaps he was clairvoyant and he was writing about the United of now.....
Hand in Glove
The Glazers and Ed Woodward. They are a match made in heaven. Without question, they want success on the pitch, but it seems abundantly clear that money is the main motivation; sponsorship deals over medals. Fans money over their wishes. It is like they do feel that the sun does shine from their behinds. They are disconnected with the fans, and oblivious to criticism. If the people stare, then the people stare.
Since Woodward succeeded they have invested heavily in the managers and the team, but they don't seem to care that the football is atrocious and the money has been squandered. The reality of missing out on Champions League football may well prompt some action, but the horse will have bolted.
Panic
Panic on the streets of London. If United miss out on a top-four place, then there may well be panic in Woodward's London office. A cup final on the horizon, is that enough to keep Louis van Gaal in a job? The Dutchman has never been more unpopular than he is right now, and losing lucrative cash for a second time in three seasons may well send United's leadership into frenzy.
Missing out once was a blip, but twice in three seasons spells real decline. Rather than act as a result of the fans frustrations, it would be because of sponsors unhappiness. Undoubtedly, they will not have invested cash in United had they known they wouldn't have been dining at the top table once again. Woodward has sacked one manager, and despite him wanting van Gaal to succeed, he may well hit the panic button and call for more change.
This Charming Man
Jose Mourinho. The Special One. He is the heir to United's throne, and although many will say he is far from charming, it is not necessarily the case. He is never far away from controversy, and he seems to court it with, on occasions, some rather crude behaviour. It is a bit of a front, though, because away from the glare of managing at the highest level, he can be very charismatic. In his current sabbatical, he has looked very calm and courteous whenever a microphone has been thrust in his face.
A jumped up interpreter, who never knew his place, he is at his most devious when he is challenging the establishment or picking a fight with a rival. Yet, despite a lot of traditions and standards having slipped at Old Trafford, their image is still important. The Glazers will not stand for anything that hurts the Manchester United 'brand' and it could well be that if Mourinho does take over then he may well be a more mellow fellow.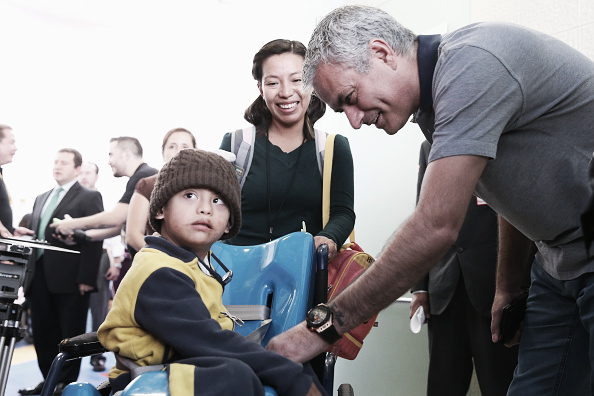 Girlfriend in a Coma
United are like a girlfriend in a coma. You love them, you remember all the great times you had together and yet right now they are lifeless. Occasionally you see a flicker of life which builds your hopes up, but it is fleeting and passes. You watch, helpless for 90 minutes, waiting to see a spark, something but ultimately there is nothing. You come away feeling empty.
Van Gaal has been charged with raising United from their sleep, but if anything they are in a deeper coma than when he took over. 'Send me to sleep, send me to sleep, I'm tired and I want to go to bed.' That is absolutely the feeling you get when watching something that was a thing of beauty and is now just a shadow of its former self.
Heaven Knows I am miserable now
The United fans are miserable. Very much so. Once upon a time, the fans would be absolutely bouncing with excitement as a Wembley Cup final beckons. Not anymore. There is excitement, but not like it used to be. The realisation has set in that the team is not good enough, the manager is not good enough and the leadership are pretty clueless.
United cannot qualify for the Champions League, let alone win the title. Add to this the boring football, and the off-field embarrassments of late kick off's and now bomb scares and there is not a lot to feel good about.
So Morrissey was ahead of his time, maybe he even saw the security alert. Maybe his line in Ask is a cry for United fans to truly unite!
"If it's not love, then it's the bomb, the bomb, the bomb, the bomb, the bomb, the bomb, the bomb that will bring us together"
It is a dismal period in United's history and yet they should be in a position to build on the foundations left by Sir Alex Ferguson. United fans may be spending warm summer days indoors, reminiscing about bygone days and dreaming of a brighter future. It may or may not come, but if it doesn't then there is always The Smiths to fall back on!