Folks, I'm going to be signing off here, hard to find much information at the moment. Stay glued to the United coverage here at VAVEL UK, as we'll keep you informed about all developments at Old Trafford as soon as we can.
City still 1-0 up after 26 minutes.
The American tv coverage on NBC is now informing us that the match has been postponed, but not canceled.
Daniel Taylor now tells us, "MUFC confirm match is off. They knew a while ago - but didn't announce it to avoid spreading panic, apparently."
United have confirmed that the match was abandoned "on police advice."
Daniel Taylor tells us that United Chief Executive Ed Woodward, Club Secretary John Alexander and Premier League Chief Executive Richard Scudamore are "deep in conversation," but no announcement has yet been made.
Last abandonded match was in 2004, because of a hailstorm, per Andy Mitten.
Announcement has been made inside the ground, and according to the Guardian's Daniel Taylor, the only reaction is some boos from the Bournemouth support, who've broken into a rendition of "You don't know what you're doing."
Simon Stone of the BBC brings us the news from a club official that the "suspect package" was found in the NE corner of the stadium.
Match at Old Trafford has been abandoned. Unsure of when it will be made up, but the news has just been confirmed on television coverage. This is all due to the "suspect device" which was found inside the ground, according to Neil Ashton.
Manchester City have just opened the scoring through Kelechi Iheanacho.
We're hearing unconfirmed reports now that the game could be called off. Meanwhile, five minutes in at the Liberty Stadium, no chances have been fashioned, and it's 0-0.
VAVEL UK's Harry Robinson tells me that there was a "suspect package" which has led to the delay.
It can't be easy for United to face a third delayed kick-off in recent weeks; remember, they had to deal with similar situations away to Spurs and West Ham.
The Guardian now saying that supporters outside the Stretford End have been asked to move away from the ground. Not sure everything will be taken care of within 45 minutes. We shall see.
I'll keep looking to bring you the latest news about the stadium evacuation as I can find it, and will keep you all updated on the City match as it goes on.
It's a "code red" warning at Old Trafford, hearing that the delay is a minimum of 45 minutes.
This means, of course, that City will finish before United. I repeat, City will finish before United.
Breaking News: Old Trafford is being evacuated, and all stands but the Sir Bobby are being cleared. Expect a 45 minute delay on kick-off. Still unsure what is going on.
I'll make sure to bring you updates from the Liberty Stadium where Manchester City are taking on Swansea as well. That isn't the easiest of trips to finish a season, but will they drop points? Today does have an air of 2012 about it, with United knowing that they need City to drop points to have a chance of pipping them for 4th. Of course, it's a perfect statement about how poor both teams have been this year that, rather than trying to determine 1st and 2nd, they're trying to find who will be 4th rather than 5th.
Look for Rooney and Carrick to have loads of time on the ball in midfield, but the Reds desperately need them to show impetus in attack. All season, they've seemed pedestrian and lethargic while going forward. In this absolute must win, can they find the will to score?
This is a fairly similar line-up to the one which United have been deploying recently, with just three changes from the loss to West Ham as Michael Carrick, Jesse Lingard and Cameron Borthwick-Jackson all come in. Could this be a preview of the XI he'll send out at Wembley next week against Crystal Palace in the FA Cup Final?
Manchester United starting XI: De Gea, Valencia, Smalling, Blind, Borthwick-Jackson, Carrick, Rooney, Mata, Lingard, Martial, Rashford
AFC Bournemouth starting XI: Federici, Francis, Elphick, Cook, Daniels, Ritchie, Arter, Surman, Pugh, King, Wilson
Today's game is more than a must-win, with van Gaal's future wildly uncertain and the Red Devils looking to get back amongst the best in Europe. However, Eddie Howe's Bournemouth won't roll over just because the game means little to them, and will look to thrive in a hostile atmosphere.
Sadly for those of a Mancunian persuasion, United's lead held for just moments before they were undone again by set piece defending. After rifling a free kick into the wall from about 30 yards out, Payet clipped a ball into the box to a wide open Michail Antonio, who headed past De Gea with less than a quarter of an hour remaining. Soon, the Irons were handed another dangerous set piece, and this time the head of Winston Reid was found. The captain was not wasteful, and he flicked the ball on past the United player of the year, who was powerless to keep it out. West Ham held on for the victory, leaving United, and Van Gaal, on the brink once again.
The Frenchman strode forward and danced his way into a dangerous position. Once creating space just inside the left-hand edge of the box, he appeared to open up his body for a cross. Hammers goalkeeper Darren Randolph bit on the fake, and committed to come for the impending cross. However, Martial's cross was mishit, and it snuck past Randolph's right arm and into the back of the net, sending the travelling support into raptures.
Yet, they struggled to build on the goal, and the game only became a more open, uncertain affair. It developed an ebb and flow as both sides were desperate to find a goal to go ahead, and it seemed like the Irons would be the more likely to do so. However, some more magic from Martial had the United support dreaming of European nights again next season.
After the break, United appeared a different team. They suddenly looked dangerous when coming forward, and it didn't take them long to get right back into the match. Some route one stuff saw young Marcus Rashford find Juan Mata streak down the right wing and, after finding space for a cross, the Spaniard clipped a ball in that found Anthony Martial, who slotted home the equaliser.
The Red Devils continued to be poor throughout the remainder of the first half and were rather lucky to only go in down 1-0 at the break. The Irons had a catalog of chances throughout the opening period, as Dimitri Payet went close and Andy Carroll was only denied by some fantastic goalkeeping from David De Gea.
They came out flat and struggled from the off. Meanwhile, buoyed by a cracking atmosphere, West Ham were rampant. Wave after wave of attack came forward from those clad in claret and blue, and Diafra Sakho opened the scoring just ten minutes into Upton Park's farewell.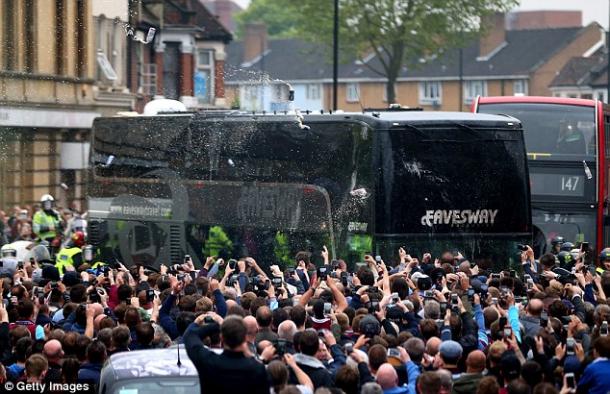 United travelled to London on Tuesday night for the final match at the Boleyn Ground, and found themselves in a unique atmosphere. Kick-off was delayed by 45 minutes after the United coach was attacked in its way into the ground. Although manager Louis Van Gaal was emphatic and refused to blame the Hammers supporters who pelted the coach with bottles, it appeared to have some effect on the visiting side.
This is a mess entirely of United's making. After City managed to lose at Southampton and draw with Arsenal = on subsequent matchdays, the Red Devils found themselves just two points behind with a game in hand. The situation was simple: win away at West Ham United and at home against Bournemouth, and fourth place was theirs.
Unfortunately for the red half of Manchester, they will need their bitter rivals from across town to drop points in Wales. Manchester City enter the day two points ahead of United, and with a goal difference 18 superior. Frankly, the only way that United can pip for fourth place is if the Citizens lose at the Liberty Stadium and United manage to overcome Bournemouth.
United face an absolute must-win situation in this match, as they know that anything other than maximum points will mean they miss out on a top-four place and a spot in next season's UEFA Champions League competition. Even if they manage to win, it is no guarantee that the Red Devils will find themselves dining at Europe's top table next season.
Hello, and welcome to VAVEL UK's live coverage of Bournemouth's trip to Old Trafford on the final day of the 2015/16 Barclays Premier League season. The Cherries are set to take on Manchester United at 3:00 PM from the Theatre of Dreams in one of the few meaningful matches on the season's final day.