Following his terrible double leg break against PSV Eindhoven in the Champions League last September, Luke Shaw spent a majority of his 2015/16 Premier League season in rehab. However, good news surfaced on Thursday as the young 20-year-old was welcomed back on to the training pitch ahead of Manchester United's FA Cup final on Saturday.
Although Shaw has made a return to first team training, Manchester United won't rush the young defender's rehabilitation process, excluding him from Saturday's FA Cup final against Crystal Palace.
Shaw returns to training but won't play this season
Shaw has undergone an extraneous amount of work in order to return fully fit and prepared for next season. Following his horrific injury, caused by a tackle from PSV's Hector Moreno, the 20-year-old immediately underwent surgery in the Netherlands, which was then followed by minor surgeries once he returned to Manchester.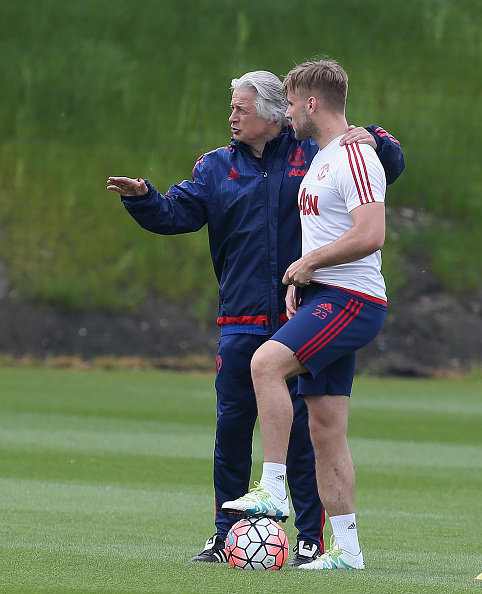 Shaw's work was quickly noticed as it only took the young fullback 10 days to put weight back on his leg. Shaw's return started light with workouts involving two hours in the pool every day, as well as gym and cycling work.
Shaw will miss Euro 2016 despite return to training
In addition to Shaw's exclusion from the Cup Final, the consequence of the 20-year-old's injury also saw him miss out on Roy Hodgson's provisional 26-man squad for Euro 2016 next month. Shaw went on to tweet about missing the squad, wishing the boys good luck. He wrote, "Always had a bit of hope that I would get back fit before the end of the season! Wasn't mean to be! Good luck to the boys in the Euros!"
Even though it is tough for the 20-year-old to miss out the FA Cup Final and Euro 2016, Manchester United fans should get excited for a fully fit Luke Shaw next season as the club look for a higher Premier League finish.