Manchester United manager Louis van Gaal has said that the feeling of winning the FA Cup is "unbelievable," after his side defeated Crystal Palace 2-1 in extra-time on Saturday.
Juan Mata's second-half strike saw the game go to extra-time after Jason Puncheon had opened the scoring, but it was Jesse Lingard who had the final say as his spectacular volley secured the victory, despite the dismissal of Chris Smalling.
The Manchester-born youngster's strike secured United's 12th FA Cup title and after the game van Gaal shared his delight at the goal and the victory.
On cloud nine
The manager told MUTV that Lingard's strike was a "fantastic goal" and a "special moment," with the side having to "fight until the end" as playing with 10 men is "very difficult." However, he believes that his side were "never giving up."
Van Gaal continued, saying that winning the FA Cup was his "aim" as he wanted to experience "English football, English culture" and "bring a title to Manchester United," despite their "transition." The Dutchman added he was "very happy" with the "unbelievable" experience.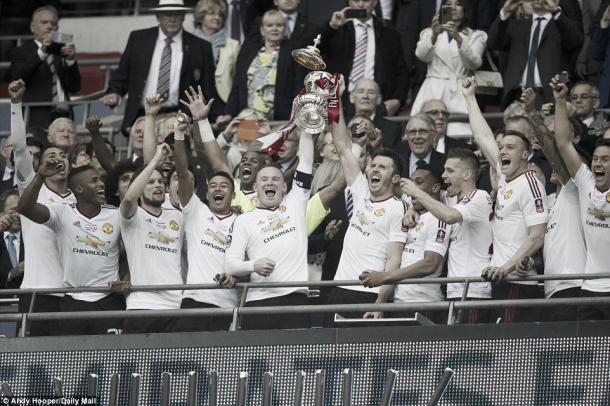 Working against them
The final wouldn't have gone the way that van Gaal would have wanted, with the dismissal of Smalling adding to the dismay of losing both Marcus Rashford and Marcos Rojo to injury, but believes his side did well despite the setbacks.
Van Gaal said that the injuries were the "same story as in the season" and and that when they went down to "10 players," the side showed their "team spirit" that they showed on "the way to this final."
Inspiring the next generation
It was a very special day for Wayne Rooney as the FA Cup was one of the only trophies not in the captain's collection, and he believes that this win can inspire the youngsters in the squad.
Rooney told Sky Sports that the trophy was "important" for the club and "the supporters."
He believes now that "a lot of players" who are new have had "that taste of success" and is hopeful that this "kicks them on" to "want more".