When Howard Wilkinson steered Leeds United to win the old Division One title in 1992, not many Manchester United fans would have been grateful to him. Yet within a matter of months, Wilkinson had provided United with an irreplaceable gift, one that would change their history forever - Eric Cantona.
Today marks the 50th anniversary of the colourful Frenchman's birth, and it calls for a celebration and recollection of his fantastic spell at Manchester United.
Chance phone call changed United's fortune
Fate brought him to Old Trafford. Alex Ferguson was discussing transfer targets in the then Chairman, Martin Edwards, office. Edwards received a call from his Leeds counterpart enquiring about signing Denis Irwin. Naturally, the inquiry was dismissed out of hand, but in a moment of opportunism Ferguson handed Edwards a slip of paper telling him to ask about Cantona.
What should have happened was another dismissal, but the Leeds chairman promised an answer very soon. The answer was yes, of course, and the fee a mere £1.2m. Ferguson must have thought it was his birthday and Christmas all rolled into one. It was one of the best transfer deals the great Scot ever did, and it set United on a path to sustained success.
United had won trophies in each of the previous three seasons, but their collapse in the title run-in when Leeds pipped them in 1992 seemed to knock the stuffing out of them. Despite having the makings of a great team, there was something missing. Eric. He came, he saw, he conquered. He brought some magic dust, and just ignited the whole place. The United faithful had a new messiah.
Leeds agreeing to the transfer was a mystery
Quite why Leeds sold him is a mystery. He came to England as a result of a number of high profile incidents during his time in France. He had fights with team-mates, kicked footballs into the crowd, and kicked a football at a referee. He had lengthy bans, and after the ref incident he even managed to double his one month ban as a result of calling each committee member an idiot after being sentenced!
His behaviour wasn't a problem initially in England though. He wasn't an integral part of the Championship team, he really only played a bit part towards the end of the season. However, he had started the season well and his quality was starting to be clearly evident. There were rumours about his personal life, but in all likelihood his maverick style didn't suit the boring football that Wilkinson was accustomed to. Their loss was United's gain.
The transfer was a massive shock, but United fans were excited beyond belief. Cantona's swagger was something that resonated with the United faithful. Ian Brown and the Gallaghers are prime examples of Manchester attitude, and Cantona was someone who produced moments of genius, whilst making it look effortless. He performed at Old Trafford as if he were born to play there.
Cantona the crowd pleaser
The more adulation he received, the more he absorbed and played up to the crowd. He didn't do it with any gimmicks, or corny gestures, although his upturned collar was a trademark. He just did it with his excellence. For such a huge man, he was incredibly graceful, and his exquisite back heels and flicks had the crowd purring. Every week. It was very rare you saw an anonymous performance from Cantona.
Prior to his debut in December 1992, United were 7th in the league, with a game in hand on the teams above them. His first appearance was as a second half substitute in a 2-1 victory over City, and that took them to 5th. He scored his first goal at Stamford Bridge in a 1-1 and steadily his influence grew. United as a team started playing with a swagger and finally secured the title after 26 years without.
Cantona's performances on the pitch helped, but it was his influence behind the scenes that would have just as big an impact in years to come. He was a beast in training, meticulously practicing and frequently after sessions. This would inspire a certain number of youngsters who would also be destined for greatness. His influence was a positive, and no hint of trouble, apart from spitting on a Leeds fan during his return to Elland Road which earned him an FA rap.
In Cantona's second season, United tore up the league. In addition, they secured an FA Cup final appearance against Chelsea. United ultimately cruised to a 4-0 victory, but for just under an hour it was goalless. United were awarded two penalties in the space of six minutes, and Cantona took both and scored both. He didn't show any nerves and there was never a doubt he would convert them. Magnifique.
Brilliance mixed with moments of madness
Cantona scored 25 goals in the double winning season, but there were also some incidents that highlighted his volatile nature and would precede one of the defining moments of his career. At Norwich City away, he got away with a punch before he launched into a wild two footed tackle on Jeremy Goss and received a straight red card. Later at Swindon Town, he would stamp on John Moncur, again seeing red.
Crystal Palace
The following season, United picked up where they left off and continued to march towards a league title. Big spending Blackburn Rovers were proving a tough opponent, and it needed a Cantona winner in January to knock Rovers off top spot. United had been the distance, and were favourites to win a hat-trick of league titles but the game against Crystal Palace following the Rovers game would change the season in an instant.
After receiving another red card for kicking out after a tussle with Richard Shaw, Cantona received abuse from a Palace fan, Matthew Simmons, as he walked along the touchline. Cantona did what he did time and time again on a football field, the unexpected. He jumped into the crowd and Kung-Fu kicked Simmons. After picking himself up, he then punched the fan. It was jaw dropping. It was madness.
United banned him for six months, after consultation with the FA. The FA then went one better and banned him for eight months. He was jailed and then given community service on appeal. As he had done in France after his various misdemeanors, Cantona wanted to quit England. It took a perseverant Ferguson to persuade Cantona that he was home in Manchester and he persuaded Cantona to return.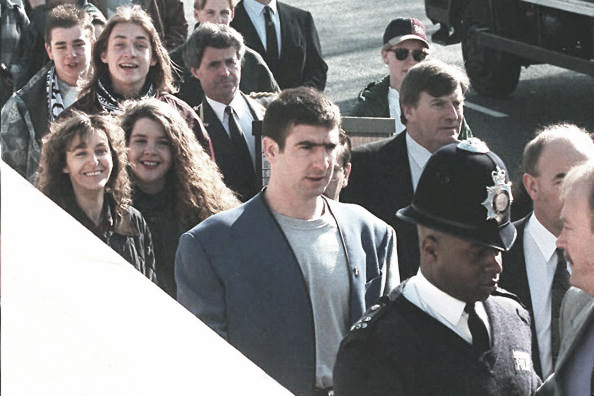 Return of the King
By the time he returned, United had finished second in the league and came runners up in the FA Cup. They had also seen a massive change. Andrei Kanchelskis, Mark Hughes and Paul Ince had all departed and had been replaced with kids. The chastening experience of Selhurst Park had mellowed Cantona, and when he returned he did so with an even more influential impact.
He was now looking after a bunch of talented youngsters, and he revelled in it. In his return game, the hype that surrounded it was unheralded. Eric being Eric assisted a Nicky Butt goal with almost his first touch, and then converted a penalty to level the scores. He hadn't lost his nerve. United were playing catch up with Newcastle United, who under Kevin Keegan were providing fantastic entertainment and riding high on top of the league.
The Geordies held a huge lead over United, but when Cantona delivered the winner at St James Park, there was just a hint that United could reel them in. Cantona set about on a seemingly personal crusade, and he kept scoring winners in 1-0 victories and ultimately United did pip Newcastle to the title. The resurrection was complete when he scored a fabulous late winner against Liverpool to complete a second double in three years.
He never conquered Europe
As was the case in the Sir Matt Busby era, conquering England whetted the appetite for the Holy Grail, the European Cup or Champions League as it is now known. Although Cantona was outstanding in the Premier League, he never really made his mark in Europe. In 1997, after losing 1-0 in the Champions League semi final first leg against Borussia Dortmund, the return leg at Old Trafford maybe signaled the end of an era. The Cantona era.
United were expected to overturn the deficit from the first leg, but they couldn't. They again lost 1-0, but they had battered Dortmund and Cantona in particular missed several opportunities. His body language that day was that of someone who knew their powers were on the wane. He should have scored at least one against the Germans but didn't. United retained the Premier League, but the following day Cantona announced his retirement from football at the age of 20.
Typical. He was a magician, a conductor and an artist all rolled into one. The stage was his, and he decided on his terms, when he had played his final part. On the football field anyway. Ferguson tried to change his mind once more, but this time Eric wasn't for changing. He took up acting, and that is still his passion.
Cantona's name is still sung at Old Trafford. Just like Georgie Best, he didn't spend a career at United, but every time these two mercurial genius' went out in a United shirt it was a privilege to watch. Five of Eric's 50 years were spent at the Theatre of Dreams, but if he lives until he is 100 he will not be forgotten. Happy Birthday Monsieur Cantona.