Ex-Manchester United players Paul Scholes and Peter Schmeichel admitted that they would like to see Zlatan Ibrahimovic at Old Trafford next season.
After a prestigious career for Ibrahimovic, in which he has played for top clubs all around Europe including FC Barcelona and AC Milan, the Swedish striker is now leaving his options open to a move to any part of the world.
Scholes and Schmeichel back Zlatan for United move​
After being highly critical of Louis van Gaal, who was sacked on Monday evening, Scholes was more positive about the club when asked about the prospect of seeing Ibrahimovic in a red shirt next season. The former-midfielder said, "it does excite me, yeah."
Scholes then went on to talk further about United's possible interest in the 34-year-old. There have been questions over Ibrahimovic's age but Scholes dashed them, saying that United are "not stupid enough to not know it would only be for one or two years at the most but he's a fit lad, he looks after himself, he's got great charisma". Finally, he added that Ibrahimovic is "a great character" and that he thinks "he could pull it off without a shadow of a doubt"
Another United great, Peter Schmeichel, was also very positive about the possibility of Ibrahimovic in the Premier League. Schmeichel said that "what you need at times" for Manchester United, or any similar club, "is you need players who are inspirational."
Could Ibrahimovic have a similar effect on United's young squad to what Cantona did in the early 90's?
It has been suggested by many people in football that the effect that Eric Cantona had on United in the early 90's was what eventually lead to a large amount on success, including an iconic treble in the late 90's. Now Schmeichel believes that Ibrahimovic could have a similar effect on United's current developing young squad.
Schmeichel said players like Ibrahimovic "stand alone like towers" and that United "had Cantona in the mid-90s, which is a very important part" of the club's history. Schmeichel said that now, 20 years on, "it's time to have someone like that again and Zlatan definitely fits the bill"
United more likely to land Ibrahimovic's signature with Mourinho in charge
Mourinho was reported to have signed a contract with United on Thursday, and in a recent press conference whilst on international duties with Sweden, Ibrahimovic has spoken about his good relationship with the Mourinho after they linked up at Inter Milan.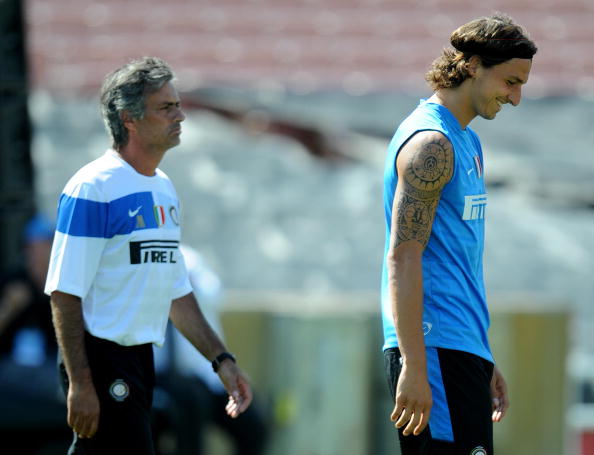 "I have spoken with Mourinho every day since I left Inter," said Ibrahimovic, although he added that they "have not spoken the last few weeks." He then went on to say that he has "missed working with Mourinho" ever since he left Inter Milan for Barcelona.
Could Mourinho prove to be the driving factor for United and their hopes of landing Ibrahimovic's signature in a highly competitive market for the 34-year-old? The majority of their fans will be hoping so.