Former Manchester United winger Cristiano Ronaldo hopes that Jose Mourinho will take his old club back to the top and win the Premier League title.
Ronaldo backs Mourinho to bring trophies back to United
Ronaldo worked under Mourinho at Real Madrid for three years in which they win the Copa del Rey and the La Liga title together but their relationship was not at its best back then. Ronaldo, though, says that he is hurt by United's plight and is backing Mourinho to bring identity back to the club and start challenging for trophies again.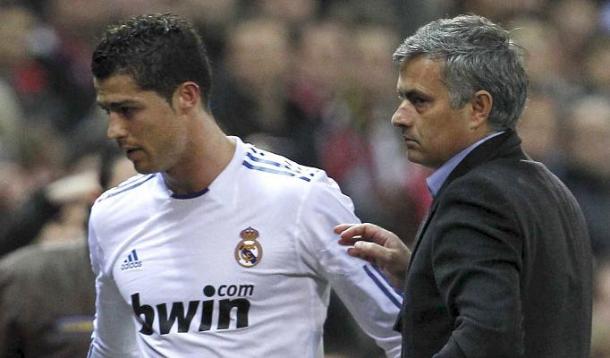 Ronaldo, speaking to Spanish TV station La Sexta, said "I think it's good" that Mourinho has become the United manager as if it's "something United wanted I think it's good." Ronaldo went on to say that "I hope Manchester United get back to what they were" as the winger feels that club has "lacked an identity a bit" over the last few years.
Ronaldo has been hurt watching United's decline in the last three years
The Real Madrid star says that it "hurts" him seeing United without an identity because it is a club that he carries in his "heart." The Portuguese winger is hoping that his fellow countryman Mourinho can carry the club "back to the top" as that is where the club belongs.
Ronaldo has once again been linked with United since the arrival of Mourinho as manager, something that happens every summer. Ronaldo, though, when asked about his future, said that he is happy at Real Madrid and he wants to stay at the club which should end the rumours of him joining United.
Ronaldo will not be joining Mourinho at United
When asked about his future, Ronaldo said "I am happy and I want to stay" at Real Madrid as for Ronaldo he doesn't see any other club that is "better than Real Madrid." Ronaldo continued to say that "all other clubs can forget about me" as for him "Real Madrid is the best" so he will be there for a while longer yet.
Mourinho will get his first opportunity to manage United against Borussia Dortmund in China on July the 22nd were he will get a taste of what it is like to manage a team he has always wanted to manage.