Ryan Giggs, Ryan Giggs, running down the wing. Ryan Giggs looking smart, patrolling the touchline. Ryan Giggs in tracksuit, sitting next to Louis van Gaal. No Ryan Giggs. That is the progression of Giggs' Manchester United career, and Jose Mourinho's appointment means that after 29 years at the club, Giggs may be looking for pastures new.
Mourinho was only confirmed yesterday, and no official statement has been released with regards to his backroom staff, but it is widely acknowledged that Rui Faria, his long-standing lieutenant, will once again take the No.2 position. Reports suggest Mourinho wants Giggs to remain at the club, but being pushed further down the pecking order is a snub that will hurt and could well prompt him to end his United association.
Sad day when Giggs leaves
If that happens, it will be a sad day for Manchester United. Giggs is a legend, and he deserves better than this. United were criticised for the way they handled the sacking of van Gaal. However, it wasn't they who leaked the Mourinho appointment. They did court him for months behind van Gaal's back though. Nobody should feel too sorry for van Gaal, but the treatment of Giggs should be viewed in a different light.
By pushing him further in the background, they are ostracising someone who is on a par with Sir Bobby Charlton in terms of club service. He is the most decorated player in United's history, and he has the most appearances also. He is United through and through, and casting people of that ilk aside sours the euphoria of Mourinho's appointment somewhat.
Private life a stigma
Not in everyone's eyes, though. A lot of United fans want him out. They point to his well publicised private life and judge him solely on his 'misdemeanours' off the field. These incidents don't put him in a good light, that's for sure. However, if that is how he is to be remembered, then lets' put this sort of judgement across the board for all the United legends that have transgressed.
The people who are criticising Giggs are probably also singing about having a pint with George Best when they get through the pearly gates. We'd all like that. To sit down with Georgie. Everyone loved Georgie. Yet Georgie was a womaniser and in some respects, that, and his penchant for the drink, seem to elevate him to God-like status even more than for his beautiful, sublime, brilliant football.
The critics may also be some who adored Tommy Docherty, and feel that the club were out of order to sack him despite him having an affair with the club's physio. Doesn't that fly in the face of the approach to Giggs? The Doc was the man that ensured Best would never play for his beloved United again.
Still, the Doc is revered for the swashbuckling football his team played during his time in the Old Trafford hot seat, as he should be. There are other United legends have transgressed also, but again they are remembered for what they did on the pitch. That is how it should be.
Best was a flawed genius, but a genius nonetheless. So is Ryan Giggs. You cannot sweep people's mistakes under any carpet, but you cannot keep beating them with a stick for them either. I prefer to remember Bestie lobbing the great Pat Jennings. I prefer to remember Giggsy beating half the Arsenal team and smashing the ball past the great David Seaman. I prefer to remember the wonderful footballers that embodied everything good about United.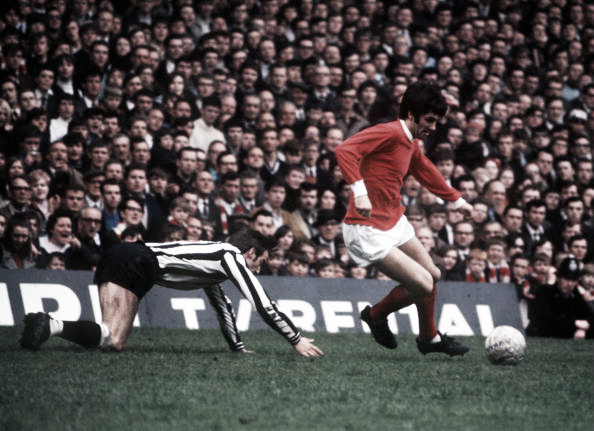 Linked to failure
Away from his private life, Giggs is also criticised for his association with van Gaal, and in some quarters the fact that he was a coach under David Moyes. Quite frankly, it is absurd to suggest that Giggs was responsible for the painful football endured since Sir Alex Ferguson retired.
Under Moyes' he was a coach. He was cutting his teeth, and his influence was limited by all accounts. The season was so bad, that Giggs had decided to forgo attending coaching meetings, such was his disenchantment. He probably felt like the fans. No, blame cannot be attached to Giggs for the disastrous first season post-Fergie.
He was more hands-on under van Gaal, so there is more credence to any association with the failings of the period. In all honesty, though, does anybody see Ryan Giggs putting his name to the turgid football that was played? Could you see him telling players to take a touch before shooting? Could you see him telling a winger not to take on a defender and to wait for a full back to support?
It's laughable to think he would agree with some of the tactics employed van Gaal, but what was he expected to do? Quit? Openly disagree in public? Or keep his council and observe, just as he did. Indeed, when he did show some defiance and finally stood up from his watching brief and tried to cajole the players, he was accused of stabbing van Gaal in the back.
Inexperience no barrier for Barcelona
There are plenty of reasons why Giggs should not have been appointed as manager at any of the three opportunities United had. Yet Giggs the football man has everything he needs to succeed as Manchester United's manager. No experience? Nobody does in their first job. Barcelona have the guts to go for inexperience.
Pep Guardiola was given his first opportunity, and they never looked back. His predecessor, Frank Rijkaard, was appointed with little experience. In his previous post he got Sparta Rotterdam relegated, and before that he had an unsuccessful spell as Netherlands boss. However, he knew Barcelona, and Barcelona knew him and he repaid the Catalans trust by delivering trophies including a Champions league.
The current incumbent, Luis Enrique, had three years coaching experience. A successful start at Barcelona B (Think United's under -21 side), a dismal year at Roma, and a mediocre year with Celta Vigo. Would United have employed him? Would United have taken a chance on Enrique, or any former United player with such a record? Not in this lifetime. So experience does count, but the right man is more important. And Giggs could have been the right man.
Giggs was born to manage United
The sight of him taking charge against Norwich City, impeccably dressed in club blazer, is a memory to cherish. He looked like he was born for the role as he strode out to an expectant Old Trafford. In a performance out of character with anything seen that season, United thrashed the Canaries 4-0 with a totally dominant, attacking display.
He wasn't phased by being in the hot seat, his press conferences were fascinating, if not box office. He speaks so much sense, has such an acute football brain, it is hard to believe he wouldn't transfer that to his charges. And do so in a 'United way'.
He gave James Wilson and Tom Lawrence their debuts against Hull City, so youth would have been promoted for sure. Having the steel to drop players (he dropped several after the poor performance in the defeat to Sunderland) would not be a problem. It could be argued that the four games in charge were nothing games, but I doubt they were to him or to United fans. In fact, they were quite important.
The season was a shock from start to finish. Poor football, poor results, a lack of identity, in-fighting (the club captain announcing his departure half way through the season), the very fabric of the club was unravelling in front of everybody's eyes. The players couldn't even have ketchup on their chips, some have suggested. What Giggs did was show that there was hope. Hope that things could be restored, and it may sound dramatic, but that short period was hugely important and symbolic.
He took on the job with dignity, and conducted himself as you would expect of a United boss. Just look at the coaches he brought in at a moments notice. The class of '92 were onboard in a heartbeat. The apprentiship under van Gaal should have cemented his place in the hot seat, learning from another top coach as he had done under Sir Alex. It wasn't to be. Now, it is unlikely we will ever see Giggs in the top job in football.
He will not be back
If he still harbours ambitions of being United boss then he has to leave. He has to go and prove himself, but he will not find it easy. This summer, Everton looks about the best option in England, but any job will be tough. He is used to United, and the scale of the club, anywhere else will take some adjusting to. So, to begin with he will be out of his comfort zone.
He would need to then do a Claudio Ranieri and then some to be in with a shout at United, but unless Mourinho completely messed up then there would be no vacancy. Bryan Robson, Mark Hughes, Steve Bruce and Roy Keane were all touted at one point for the United post, but partly because of Sir Alex's longevity and partly because of a lack of trophies they have all gone by the wayside. Hughes and Bruce are fantastic managers, but they would never be considered.
Giggs could continue in this made up role, and ride on Mourinho's coat tails. Any success could bring reflected glory, just as it brought criticism with his link to van Gaal. Yet success would make the Mourinho marriage much stronger. This 'three year' term that sticks to Mourinho would be severely tested if he brings the good times back, and he already has an option of another two years.
It is not Mourinho's fault that Giggs finds himself in this situation. It is his prerogative to bring in who he wants. United kept van Gaal in the dark, and it is alleged that Giggs believes that he shouldn't have suffered the same fate. He felt he should have been informed of the clubs new direction.
It is delicate when you are trying to hire someone for a position that is not available, that you keep the clandestine meetings secret. The club couldn't tell Giggs, obviously. Yet they should have done. He deserved better. Giggs going will truly represent the end of an era. He was still a link between the club and Sir Alex in terms of the playing side. There isn't much else to say other than thanks for the memories (That's 963 appearances and 34 trophies for those who may have forgotten).