Chelsea captain John Terry says that Jose Mourinho is exciting for Manchester United and has backed his former manager to succeed.
Terry is backing Mourinho to have success at United
Mourinho became United manager last week replacing Louis van Gaal and already many people are predicting him to bring success back to Old Trafford. Terry has backed these claims saying that Mourinho is the best manager he has ever played under.
Terry said that it is "fantastic news for Manchester United" when he was asked about what he thought of Mourinho becoming United manager. The defender says that he is "sure that United fans and players will be delighted" with the prospect of working under Mourinho.
Terry went on to say that he has said many times that Mourinho is "the best manager" he has worked under. The defender said that is was "unfortunate the way it ended at Chelsea" when he was sacked in December but he says that Mourinho will be "great for Manchester United."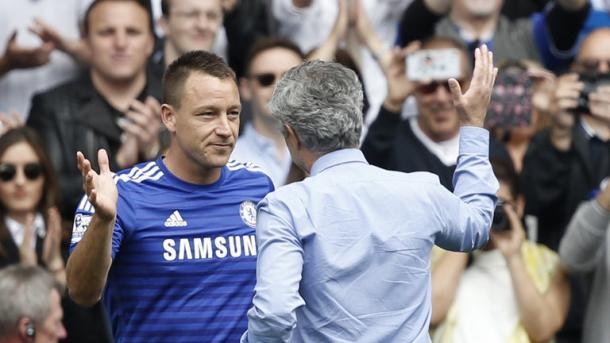 Terry feels Giggs can learn a lot under Mourinho
Terry won three Premier League titles under Mourinho in two separate spells and he feels that Mourinho can bring the same success to United if given time. Terry has also urged United to keep Ryan Giggs in Mourinho's backroom staff so that he can learn from Mourinho and get the job in the future.
The defender was asked about what Mourinho would find different about coming to Manchester and Terry replied saying "the weather is slightly different maybe" as London usually provides better weather to everyone. Terry says that Mourinho will settle in quickly with the "likes of Ryan Giggs" and Terry says he hopes Giggs will "stay and support him as well."
Terry was set to depart Stamford Bridge this summer but then signed a new contract at the club and now he will be looking forward to playing against his former manager. The defender won't have long to wait as the Premier League fixtures are due to come out on June 15th.