Manchester United midfielder Ander Herrera says that he is excited at the prospect of playing under Jose Mourinho and is confident he can improve under him.
Herrera excited by Mourinho's arrival at United
Herrera had a very indifferent season under Louis van Gaal by not being selected for a quite a few matches and also due to injuries. Herrera is confident though that he can improve under Mourinho and is one of the first United players to publicly welcome him to the club.
Herrera, speaking in an interview with Marca, said that "working with Mourinho is a unique opportunity" as for the midfielder Mourinho is "one of the best in the world." Herrera went on to say that the boss has a "widely acclaimed method of working" and this is important for Herrera as he says he wants to "learn and improve."
The Spanish midfielder continued to say that Mourinho's arrival is a "one-off opportunity for me to continue to develop and grow" as under Mourinho many midfielders have improved and Herrera is hoping he will be the next one that Mourinho helps.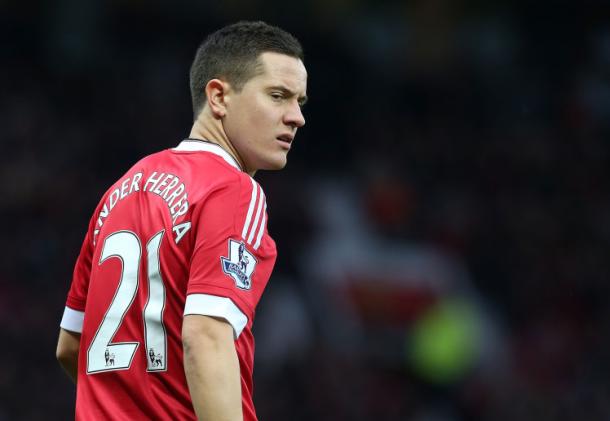 Herrera defended Mourinho's style of play
One thing that has been branded at Mourinho is that his style of play does not suit the United way due to many people thinking he is far too defensive. Herrera though disagrees and said that Mourinho plays many offensive players in his team and reminded everyone about when he was coach of Real Madrid that his team scored the most goals in a season.
Herrera in response to a question about Mourinho playing to defensive said "I find it funny" as the midfielder was keen to point out that at Chelsea Mourinho played "Fabregas, Willian, Oscar, Hazard and Costa" so that is plenty of offensive players.
The midfielder continued to make his point saying "at Madrid, his side scored a record amount of goals" which shows that Mourinho can get his team to score many goals when he wants to. Herrera says apart from Mourinho being attacking he is also a coach who "soaks up the pressure on the players" which in turn makes his players more "relaxed."