Manchester United are close to signing Villarreal centre-back Eric Bailly for a fee of €30-40m according to reports in Spain.
Bailly joined Villarreal in January of 2015 for around €5m from Espanyol and could become Jose Mourinho's first signing at Old Trafford. The 22-year-old drew interest from Barcelona and United's local rivals Manchester City in April this year.
The Ivory Coast-born defender was a key part of Marcelino's superb defensive system at Villarreal this season which took them to the UEFA Europa League semi-final, beaten by Liverpool, and a fourth-placed finish in La Liga with the fourth-best defensive record too. That also may prove to be his weakness. Marcelino sets up Villarreal incredibly defensively with a well-organised system and so if the same does not come at United if he joins, his performances may deteriorate.
Spanish reports suggest United will sign Bailly
The reports, which stemmed from an initial story from Cadena Ser and later picked up by multiple outlets, are surprising given the lack of talk of Bailly in England. However, they suggest that although United were not willing to pay the full release clause of Bailly, €40m, Executive vice-chairman Ed Woodward has negotiated a deal in potential installments with €19m up front and a further possible €11m in bonuses.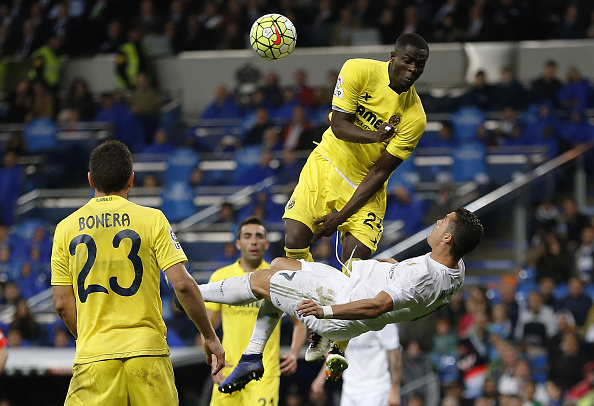 United's wealth is known and this may signal the start of Premier League clubs being charged a premium due to the publicity of the staggering new television deal. However, when the potential alternatives to Bailly are considered for United, they too would represent a huge fee. One player linked has been Everton's John Stones and the asking fee for the Engish centre-back is suggested to be around £50-60m.
Bailly could cost €40m
Manchester United certainly need a centre-back and some fans are adamant two new defensive signings are needed. Chris Smalling and Daley Blind have been key figures during the past season but in games like the 3-0 defeat to Tottenham Hotspur, they have shown their weaknesses. Smalling has vastly improved and Blind has been a surprise candidate for player of the season at United but is a midfielder and his use in defence should be stopped.
At 22, Bailly represents another signing for United with potential rather than world-class quality already. There was great shock over the signing of Anthony Martial and the fee, and that is now laughed off. Bailly is known to be a physically strong defender with the ball-playing ability that could fit in at Barcelona, hence the links with the Spanish Champions in April.
At the other end of the spectrum, Swedish striker Zlatan Ibrahimovic has been linked with United strongly, with reports suggest he could sign a one-year deal before he starts his Euro 2016 campaign with Sweden.