Muhammad Ali finally succumbed to the toughest battle of his life. His long standing battle with Parkinsons disease is finally over, but not before he showed the kind of bravery that made him a champion, fending off the disease for 32 years after being diagnosed.
The tributes have poured in and people that never really knew him, never saw him fight and never heard him utter his magical rhymes all feel deep sadness. There will never be another. He was a sporting genius, a lyrical master, a humanitarian and above all a humble man. On top of that he was pretty, and he told that to anyone that would listen.
Ali was the ultimate genius
Over the years sport throws up a genius in their field, and some have a fraction of what Ali possessed. Some can match his sporting greatness, some can come close to his brash personality, some are blessed with good looks. Very few possess all of those things, and still have the awareness and desire to use those blessings for a greater good. Luckily, Ali did.
Ali become Olympic champion in Rome in 1960, so he had already put his mark on the world of boxing at just 18 years of age. When he took on and beat the brute that was Sonny Liston in Miami in 1964, the whole world now took notice. "I shook the world" he bawled after defeating the undefeatable. He certainly did.
Best and Clough had a little bit of Ali
Ali had no peers, but sport has a habit of throwing up people who are extraordinary and there were two in the 60's that certainly had some of Ali's wonderful traits. One was George Best. He had the same sporting genius, and also had popstar looks. Best became known throughout the world, and not just the football world. However, he was probably the complete opposite in terms of personality. The shy Irishman was not the boasting type.
Brian Clough was though. He conquered the football world as a manager winning two European Cups with Nottingham Forest. He didn't tire of telling people either. His no nonsense, outspoken attitude actually caught the attention of Ali. Both men were courted by Michael Parkinson, the chat show host, and had a comical exchange of banter on the show with both men calling themselves the greatest.
Clough and Ali understood human behaviour. Clough would prepare for games with some offbeat behaviour, Ali would be throwing insults and calling which round he would win in before a fight. They were showmen, and whilst Clough's approach may have had more to do with settling his own team, Ali's was all about unsettling his opponent.
It was a different era back then, but there are still genius' to be found today. Floyd Mayweather has a lot to thank Ali for. His life paved the way for black people to succeed in all walks of life. And Mayweather succeeded in no uncertain terms. Whilst he may have the brilliant boxing ability, and a brash attitude, he doesn't have the charm and flair that Ali had to endear people to him.
Jose Mourinho does. He has come a long way since his days as a translator. Just as Ali announced himself to the world with his defeat of Liston, Mourinho did it way back in 2004 at Old Trafford initially. The image of him sprinting down the touchline after his no hopers of Porto had knocked out Manchester United was his Liston moment. It was akin to him shouting "I shook the world".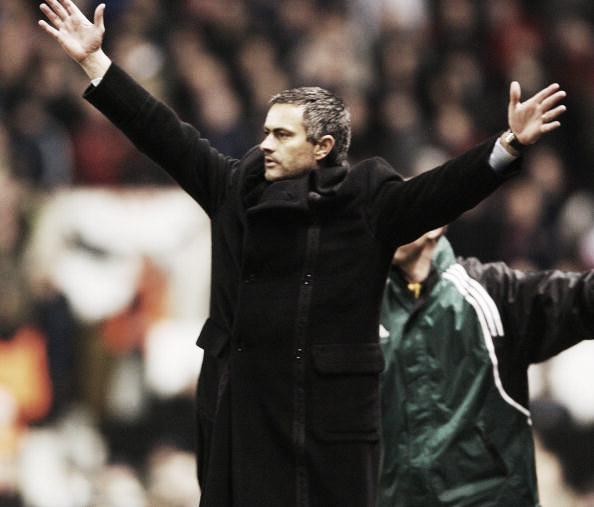 It enabled his move to Chelsea and so came his proclamation that he was the "Special One". He has proved he is a genius football manager, but there is also some distasteful issues with him. Just as there was with Ali, when he went beyond promotion or sport in his nasty taunting of Joe Frazier before the two met in the ring. His verbal jousting had predictions and humour, yet with Frazier it was belittling and downright cruel.
Mourinho of course, has a court case hanging over his head after his alleged abuse of the Chelsea team doctor, Eva Caneiro. Add some eye gouging and some other unsavoury spats with rival managers and referees and his abilities are sometimes overshadowed. To that end, he needs a comeback, not least because after winning the title with Chelsea he was quickly down and out.
Mourinho needs a comeback
He needs a comeback of the proportions of Ali's against George Foreman in the epic 'Rumble in the Jungle'. Nobody gave Ali a hope. There was more concern for his welfare than him winning the fight, but with unorthodox tactics that Clough would have been proud of, he stunned the world again.
Mourinho is not exactly an outsider to return to the top. He is managing Manchester United after all, albeit a wounded one. Still with Pep Guardiola now at Manchester City, taking on the Frazier role as arch rival, he is going to have his hands full.
As Ali aged, he also showed signs of poor health, and as we now know his power was slowly being eroded. Mourinho has no apparent health concerns, and he is far from old in the world of football management. Yet if he loses this battle, probably the biggest he has taken on, then he may find himself unable to reach the top again.
Should he return United to the pinnacle of English football and maybe beyond, then his legacy will be cemented. He will be acclaimed as one of, if not the greatest in the history of the game. That still wouldn't make him the greatest, that honour will always stay with Ali.