Perth Glory CEO Peter Filopoulos says that Michael Carrick has signed a new contract with Manchester United. The Englishman's contract was set to expire this summer after an 11-year run with the club. Australian side Perth Glory made inquiries over the 34-year-old to bring him to the Australian A-League.
Carrick has a very good relationship with Perth Glory captain Richard Garcia. The two were teammates during Carrick's time at West Ham United and was even the best man during Garcia's wedding. However, Filopoulos conceded that his side will not be signing Carrick this summer.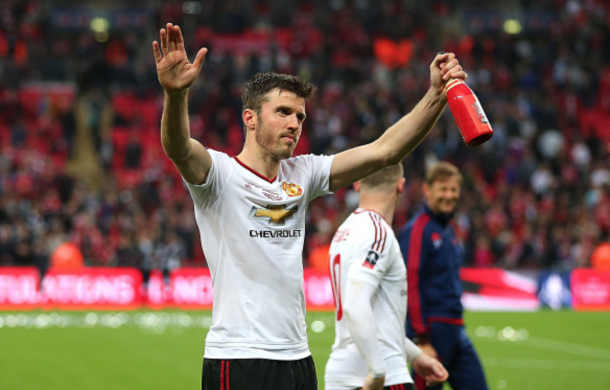 Filopoulos speaks to FourFourTwo
In an interview with FourFourTwo, Filopoulos talked about trying to sign Carrick. "It was a long shot opportunity due to Richard Garcia's relationship with Michael," he said. He continued that by saying Perth was an option for the Englishman as he pondered what was the best move for his career had he not re-signed with Manchester United.
Carrick is Mourinho's third contract extension
Manchester United TV Paddy Creand has said on-air that the contract extension has already been agreed to with Manchester United. This would make the 34-year-old, the third player to sign contract extensions with Manchester United in Jose Mourinho's short time as manager. Academy products and first-team breakout players Cameron Borthwick-Jackson and Marcus Rashford were the first two players to sign their contract extension.
Carrick's 2015-16 season
The 34-year-old had an uncertain future under manager Louis van Gaal as the two did not talk about signing an extension, knowing the Englishman's contract was set to expire next month. Carrick did not register a goal or an assist this season in all competitions but was still a cog in the Dutchman's midfield. In the Barclays Premier League, Carrick started 22 games and was substituted on six times. He started four times in both the UEFA Champions League and the FA Cup, starting in the final where United edged Crystal Palace.