It has been announced that veteran midfielder, Michael Carrick has signed a one-year contract extension with Manchester United.
Delighted to stay
It was expected that Carrick would move on from Old Trafford this summer - and there was interest from Australian side Perth Glory - but the 34-year-old has signed a deal to keep him at the club until June 2017.
Carrick moved to Old Trafford from Tottenham Hotspur back in 2006 and has established himself in the United midfield since then. He has gone on to win five Premier League titles, one FA Cup, League Cup, FIFA Club World Cup and a UEFA Champions League.
Carrick told manutd.com that the "great club" had been a part of his life for the "past 10 years" and that he was "delighted" that his "incredible journey" is "continuing".
He added that is "great" to have the chance to work with Jose Mourinho and wants to "thank the fans" for their "unwavering support". Carrick feels the FA Cup victory was a "special moment" and is hopeful to "win more trophies in the future".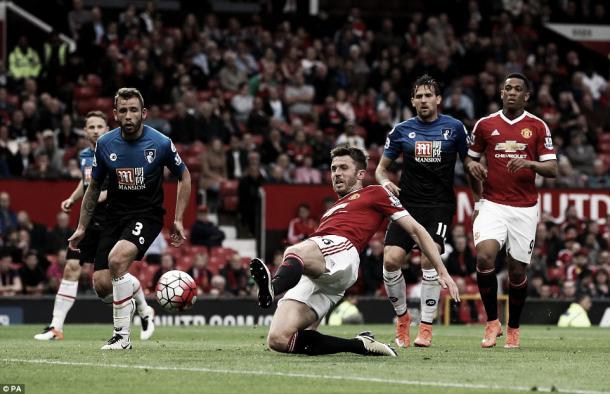 Intelligent player
Carrick joins both Marcus Rashford and Cameron Borthwick-Jackson in extending their contracts at the Red Devils, and Mourinho and praised Carrick's decision to stay.
He said that Carrick is a "very intelligent midfielder" and "great reader of the game". The Portuguese admitted he was "pleased" that the midfielder was extending his contract.
Mourinho continued, saying that his "form this year" showed his "ability" and "enjoyment" for the game were "strong as ever". He believes that his "wealth of experience" will be "invaluable" and is "really looking forward" to working with Carrick.
Opportunity passes by
A move to Australia seemed to be a serious possibility with Perth Glory captain Richard Garcia taking up the role of best man at Carrick's wedding, but club CEO Peter Filopoulos conceded the transfer wouldn't be happening.
He told FourFourTwo that it was a "long shot opportunity" due to Garcia and Carrick's relationship, but accepted that a any move was "off the table."