Manchester United's under-21 team will participate in next season's Football League Trophy as part of a trial for Premier League teams for the 2016/17 campaign.
The Red Devils have seen several of their academy players play in the competition, whether out on loan or after leaving United, but have never actually participated in the tournament themselves.
That is because the trophy has only ever been contested by teams in the third and fourth tiers of English football, although that will no longer be the case next season.
New look football calendar
There will be 16 Premier League academy teams incorporated into the competition, meaning the structure of the tournament will undergo significant changes – affecting both Football League sides and the Red Devils' under-21s.
United's under-21s played 27 matches last season in their league campaign, the Lancashire Senior Cup and Manchester Cup. Their involvement in the Football League Trophy could cause the team to call up under-18s players into their squad with increasing frequency, which could then have a negative impact on that side as well.
The competition will continue to be split into Northern and Southern sections but will now begin with 16 groups of four teams, with the top two qualifying for a straight knockout phase for the remainder of the tournament. The previous structure was a complete knockout phase until the area finals, which were played over two legs before a one-legged final was played at Wembley.
That will mean the maximum amount of games a team can play in the tournament will increase from seven to at least eight next season, depending on how many times teams play against each other in the group stage. Regardless, this will further increase fixture congestion, not only for Football League sides, but for United's under 21 team, too.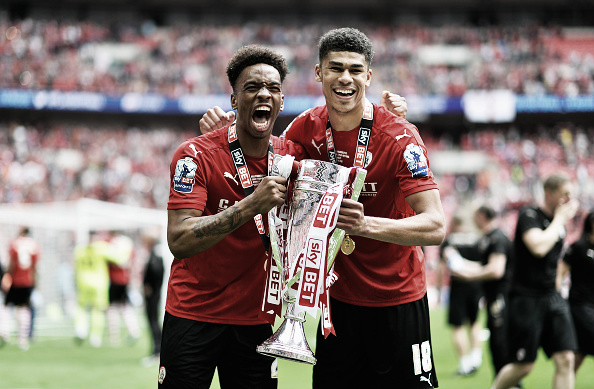 Beneficial for young Reds
However, the experience of playing in a competitive environment against established professional players could prove to be a positive one for United's academy players.
Only last season, Football League Trophy winners Barnsley triumphed partly thanks to on-loan United striker Ashley Fletcher, who scored in the final against Oxford United.
Fletcher made 27 appearances during his time at Oakwell, scoring nine goals, and his experience of playing in and winning the Football League Trophy will have no doubt aided his development.
The inclusion of the under-21 team in the competition will give those young Red Devils that aren't loaned out an opportunity to play in more competitive and perhaps more meaningful matches, which can only be a good thing for those players.