Manchester United players were again involved in Euro 2016 action on Sunday, with Bastian Schweinsteiger and Paddy McNair at the heart of the action for their respective countries on the third day of the tournament.
Schweinsteiger scored Germany's decisive second goal only minutes after coming off the bench in a 2-0 triumph over Ukraine after McNair's Northern Ireland went down 1-0 to Poland earlier in the day.
Necessary boost for Bastian?
Schweinsteiger became the first United player to score at this summer's tournament with his goal on Sunday, but the veteran midfielder otherwise had very little to do with his country's victory.
The former Bayern Munich man replaced Mario Gotze in the 90th minute and scored with a controlled half-volley two minutes into added time from Mesut Ozil's pinpoint cross.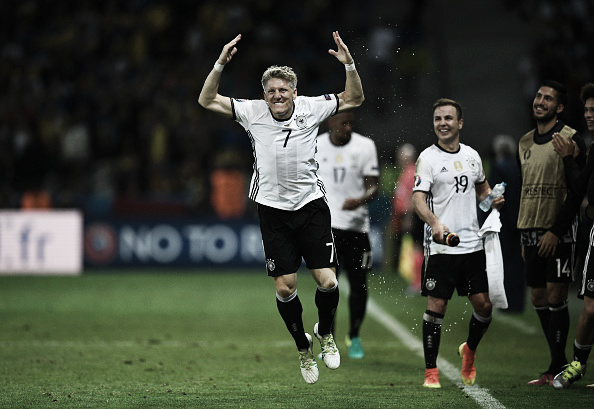 The goal was Schweinsteiger's first at international level since October 2011 and it secured Germany's 2-0 win, after Valencia defender Shkodran Mustafi had scored with a header midway through the first half.
McNair struggles in midfield
However, as one United midfielder experienced joy in France, another was on the receiving end of Poland's quite dominant victory over Northern Ireland.
That man was McNair, who was unable to prevent Poland from creating several chances to score, although the United star was replaced at half time when the game somehow remained goalless.
As McNair was replaced by Stuart Dallas at half time, though, Northern Ireland conceded within five minutes of the restart. Arkadiusz Milik scored the winner in the 50th minute as he tucked home Jakub Blaszczykowski's pullback from the right-wing, but it's hard to argue that the United midfielder's departure had much bearing on the goal.
In Monday's EURO 2016 action, United's David de Gea could play in Spain's meeting with the Czech Republic whilst Matteo Darmian and Marouane Fellaini may face each other in Italy against Belgium.