Sergio Romero and Marcos Rojo were a part of the Argentina side that lost the Copa America final to Chile for the second consecutive year on Monday morning.
Bastian Schweinsteiger had also made a substitute appearance for Germany in their 3-0 Euro 2016 win over Slovakia a day earlier, but Rojo's first half red card and Romero's subsequent heroics in the Copa America final were the real talking points of the last day's international action from a Manchester United perspective.
Argentina's Copa America misery
Argentina also faced Chile in last year's Copa America final – in which Rojo and Romero also figured – but the end result proved to be the same.
The game saw many aggressive challenges in the early stages and the referee was eventually forced to show a second yellow card to Chile's Marcelo Diaz less than half an hour into the game. That might have been seen as harsh and there was a sense of matching things up when Rojo was also dismissed just two minutes before the break.
The United defender clumsily tackled Arturo Vidal from behind and his challenge was deemed worthy of a straight red card, although he had appeared to win the ball first. A booking would certainly have been a much fairer punishment.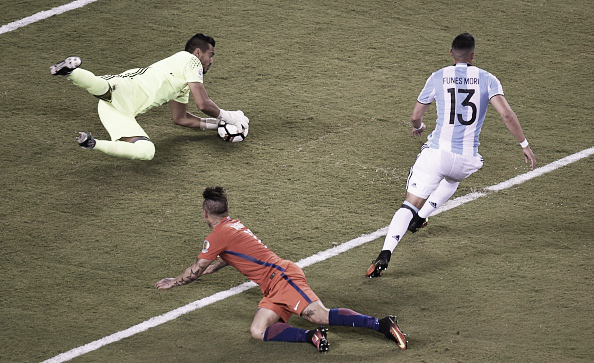 In Rojo's absence, fellow United man Romero ensured the deadlock was not broken with a string of impressive saves, and the goalkeeper even saved Chile's first penalty in the resulting shootout. However, Chile would not miss again, meaning Lionel Messi and Lucas Biglia's wayward efforts would prolong Argentina's 23-year run without a title.
Schweinsteiger and Fellaini off the bench
In Euro 2016 action, meanwhile, Germany strolled to a 3-0 win against Slovakia.
The match had already been won and Germany were 3-0 ahead by the time United's Schweinsteiger replaced Sami Khedira in the 76th minute, with this being his third substitute appearance of the tournament so far.
Schweinsteiger had little time to make an impression, though, and it seems unlikely that he will be handed his first Euro 2016 start in Germany's quarter-final tie against Italy or Spain on Saturday.
Marouane Fellaini also came off the bench in Belgium's 4-0 win over Hungary after being left out of his country's previous two victories. Like Schweinsteiger, though, he had little impact on the result as he was only introduced in the 81st minute to replace Eden Hazard, although he was on the pitch when Yannick Ferreira Carrasco scored the Red Devils' fourth goal.
France also progressed to the last eight of the tournament with a 2-1 win over the Republic of Ireland on Sunday but neither of United's Morgan Schneiderlin or Anthony Martial were involved.
France will face England if they beat Iceland tonight, where Wayne Rooney, Chris Smalling, and Marcus Rashford could all be involved.