Three Manchester United players were involved in England's humiliating defeat against Iceland on Monday night, whilst David de Gea's Spain were dumped out of Euro 2016 partly thanks to Matteo Darmian of Italy.
Wayne Rooney scored an early penalty to put England ahead in their match but Chris Smalling and his fellow defenders could not prevent Iceland from overturning that early lead and ultimately holding on for a shock victory.
Rashford briefly impresses in England exit
Fellow United man Marcus Rashford was brought on in an effort to salvage England's Euro 2016 fate and he did show some moments of quality but his introduction came far too late, with the striker only coming on for Rooney in the 86th minute. Incredibly, the young forward completed three take-ons in his brief time on the pitch – more than anyone else managed in the whole match.
It was Rooney that Rashford replaced late on, and the United veteran would have been disappointed with his contribution. Despite converting a fourth-minute penalty after Raheem Sterling was brought down in the area, the forward regularly gave the ball away and even lost a vital aerial duel in the build up to Iceland's equaliser.
Meanwhile, Smalling could have done little to prevent that goal but might have done better to make a challenge on Kolbeinn Sigthorsson when he scored Iceland's second. The United defender couldn't be fully blamed, though, as the FC Nantes striker had already sidestepped Gary Cahill way too easily before his tame shot somehow went through the hands of England 'keeper Joe Hart.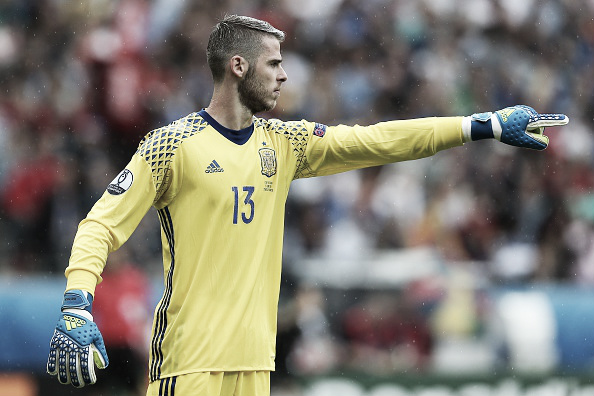 Darmian subbed on in Italy win
In Monday's earlier game, Italy were victorious over reigning champions Spain, who were saved by goalkeeper David de Gea numerous times throughout the game.
The United stopper made two fine saves early on as he palmed away Graziano Pelle's header and Emanuele Giaccherini's acrobatic strike, although he would have to share some of the blame when Giorgio Chiellini scored Italy's opener in the 33rd minute. De Gea turned away Eder's powerful free-kick just before but as the ball fell in front of him, Giaccherini got the first touch which then allowed the Juventus defender to score with a simple tap-in.
De Gea made further saves from Giaccherini and Lorenzo Insigne but his work became less frequent as Spain put the pressure on their opponents. However, the game was finally settled in the 91st minute with the United stopper helpless to prevent Italy's second goal.
United's Darmian had replaced Alessandro Florenzi at right wing-back less than ten minutes previously with the aim of protecting the Italian lead, but he surprisingly turned provider when found by Insigne's Crossfield pass. The former Torino defender's cross was then deflected beyond De Gea and volleyed in by Pelle.
Five Reds remain at Euro 2016
Italy's progress means Darmian is one of the five remaining United players at the tournament – although none of them actually started their respective country's most recent match.
Like Darmian with Italy, Bastian Schweinsteiger and Marouane Fellaini came off the bench in comfortable victories for Germany and Belgium respectively on Sunday, whilst Anthony Martial and Morgan Schneiderlin were unused substitutes for France during their win over the Republic of Ireland on the same day.
At least one United player will reach the semi-finals, with Darmian and Schweinsteiger set to face off in Germany against Italy in the next round, whilst Schneiderlin and Martial of France will expect to reach the last four as they next meet Iceland – who are the lowest ranked side left at Euro 2016.
Belgium also have a relatively favourable draw against Wales in the quarter-finals where Fellaini could be involved, so United could yet have four of their players still at the semi-finals of Euro 2016.