As the dust started to settle on England's dismal exit from the European Championships, Roy Hodgson was quick to quit the scene but his captain, Wayne Rooney wasn't for joining. Rooney emphatically declared himself available to whoever succeeds Hodgson.
It is becoming a trend these days for players to retire from International football to prolong their club careers. Alan Shearer and Paul Scholes did it for England, and the day before England's exit, Lionel Messi quit at just 29 after Argentina lost in the Copa America final. Yet Rooney is proud to captain his club and country, so it was typical he would continue to offer his services.
That is dependent on selection, and there will no longer be any guarantees where Rooney is concerned. Firstly, he will have new managers for Manchester United and England. Jose Mourinho is already in place at United, and England have promised a new man at the helm within six weeks. They play their next international in September and by that time Rooney should know how the next part of his career will pan out.
Midfield role has confused Rooney's future
And what his role will be. That will be the first issue. At United, he will get games. Mourinho is a fan of Rooney's, making a bold bid to sign him in 2013. He will now finally get the opportunity to manage Rooney, but it will not be the same player he was willing to splash out on. He is not the rampaging Rooney of old, but his appearances in midfield have now confused things further.
That will be Mourinho's first decision, but it shouldn't be too tough to call. He has performed well in midfield, all things considered, but he has attracted quite a bit of criticism in that position both from United and England fans. He is not Paul Scholes and never will be, but considering he has been asked to do a job he hasn't made a bad fist of things to the point where he has said he believes that's where his future lies.
It is hard to see, though. He still has goals in him, and the only reason he was put in midfield is that the bar hadn't been set very high. United and England have numbers, but not quality. Maybe the likes of Morgan Schneiderlin and Ander Herrera can be revitalised under Mourinho, and it could be that Louis van Gaal stifled the players. There is also the likelihood of an addition or two, with Paul Pogba heavily linked, so his future at United will most likely be as a forward.
For England, it may be different. They have very few central midfielders of note, and on the flip side, there is now a lot of quality in attack. Hodgson accommodated Rooney in midfield to allow him to take a gamble on Marcus Rashford. In qualification, Rooney spearheaded the attack, successfully, but the experiment with Rooney in midfield may well continue with the national team.
Rooney could be surplus to requirements
All this is under the assumption that his new managers actually want him. Mourinho will be unlikely to get rid of him, even if he wanted to. Who would take him? He is not at the end of his career, but at 30 years of age, his £300,000 weekly wage would price him out of any feasible move. If the new England boss doesn't fancy him as a midfielder, then he could be out in the cold. The emergence of Rashford, added to the other younger, talented forwards, could well mean that England could look beyond Rooney.
However, he is the captain at both club and country, and it would be a surprise if he does not remain in that capacity. He is very well liked and respected by his teammates in both camps and his experience can be of value. Even if he loses his spot as first choice, then being around the squad will still be beneficial.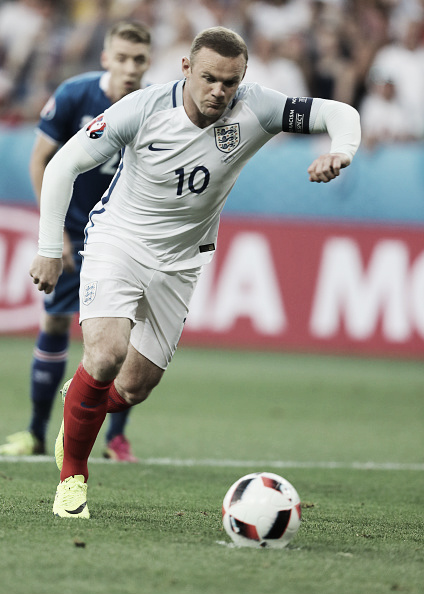 Transfer request still hangs over his head
Rooney has his critics and is starting to become a very divisive figure. United fans may well have not fully forgiven him for the transfer request he handed in back in 2010. Yet Cristiano Ronaldo, who came out in support of Rooney prior to the Euro 2016 tournament beginning, is still lorded at Old Trafford. He never handed in a transfer request, but he did demand a move to Real Madrid. And Los Blancos have benefited in no small measure.
Sir Alex Ferguson accommodated Ronaldo's request, albeit asking for one more year. When Rooney's request came in a year after Ronaldo left it was definitely ill-advised, but Ferguson took control of the situation and Rooney stayed getting an improved contract in the process. Ferguson may well have been put out by Rooney's action, and he left a parting shot prior to his retirement by claiming Rooney handed in a second transfer request.
Ferguson secured Rooney to United
The irony of Ferguson's action was that he ended up tying Rooney to United not sending him packing. By leaving the problem to David Moyes, Rooney's first boss, he gave Moyes a big headache. Moyes first task in a job that proved too big for him should not have been dealing with a circus around Rooney. He could have sold Rooney to Chelsea, but as he was unable to secure any incoming talent then selling Rooney was not really an option. Again, Rooney was the beneficiary, becoming captain and getting another improved deal.
Whatever is behind the criticism, most of it is over the top. Every bad team performance sees him singled out. Of course, with his ability and experience, it is natural to expect him to lead but both United and England have had a number of players put in stinking performances, yet it is Rooney who gets it in the neck.
At the start of last season, Rooney was non-existent. A lovely hat-trick against Club Brugge failed to kick-start his season and he was definitely toiling along with a number of other players. Yet, he did finally kick into gear. At the start of the year he scored seven in seven games and was starting to influence performances, but an injury proved a setback. On his return, Rashford had shown more than enough to stay in the lone front role.
Like him or loathe him, it is not likely that he is going away. You can expect some big players coming into United, the likes of Zlatan Ibrahimovic and Henrikh Mkhitaryan seemingly close to signing. This will mean a reduced role for Rooney, at United. It would be unlikely he would continue as first choice. However, he is England's record scorer and likely to become United's this year and it is just as unlikely that he would be discarded altogether.
Rooney is a fighter, and he needs to show all his qualities to extend his career at the highest level, though silencing the critics might be a bridge too far.