Zlatan Ibrahimovic does not do subtlety. Nor do Manchester United. Thus, when Ibra posted a photo of United on Instagram with the hashtag "#iamcoming," a match seemingly made in heaven was consummated. The club, whose fans lovingly say that they are "hated, adored, but never ignored," have signed one of the biggest prima donnas in the footballing world, a man who once turned down a trial at Arsenal with the simple statement that, "Zlatan doesn't do tryouts."
United history littered with famous stars
United are a club built on the romantic ideal of attacking football, playing with width, pace and verve, looking to go at an opponent and outplay them. At times, it has seemed as though how they play is just as if not more important than whether or not they win. This is a club who play in the Theatre of Dreams, and whose list of mercurial geniuses includes George Best, Eric Cantona, and Cristiano Ronaldo.
Now, there's another name to add to that list: Zlatan Ibrahimovic. The Swedish striker, who has a remarkable nous for self-promotion, has won a league title in 13 of his 16 professional seasons. He was his team's leading scorer in 12 of those 16 seasons. To Zlatan is a verb in Swedish. He has his own search engine. To be sure, he is a great player and one of the biggest names in world football—without having kicked a football at Old Trafford, he's already one of the best players to have ever put on the famed red and white kit.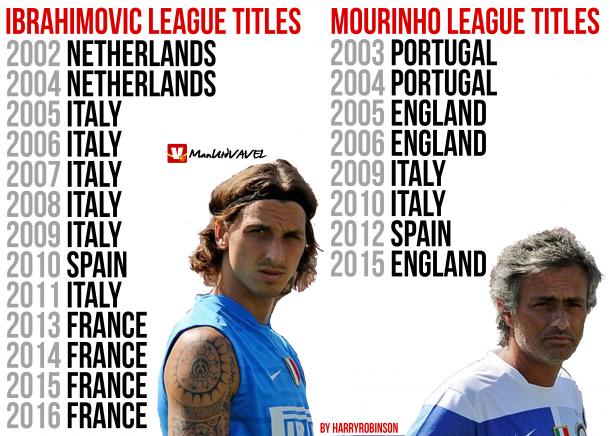 Does he fit in with the United Way?
However, is he the right fit at United? Is a 34-year-old striker, who will be 35 come early October, the man to come in and restore glory to a club which prides itself on giving youth a chance? Especially after a poor season in which the biggest highlight was the young talent that came to the fore?
Over the course of the 2015-16 season, United were plagued by one of the worst injury crises the club have ever seen, which precipitated the rapid graduation of academy players to life on club football's biggest stage. Though it wasn't always rosy, Cameron Borthwick-Jackson, Timothy Fosu-Mensah, Jesse Lingard and Marcus Rashford quickly established themselves as first-team regulars. That's not to even mention Anthony Martial, the world's most expensive teenager, recipient of Europe's coveted Golden Boy award, who so thrilled the teeming masses that follow the Reds all across Europe.
How does Zlatan get shoe-horned into a team that still offers the young players a chance to grow? New manager Jose Mourinho doesn't have the finest of track records when it comes to nurturing young talent, and that, along with his often defensive, pedestrian style of play, were what prompted many supporters to have misgivings about his appointment. With such an otherworldly talent as Zlatan in the squad, will the team build play quickly? Can Mourinho find room for Rashford and Martial? Will Rashford, a newly minted England international who saw game time at the European Championship, be relegated to bench status or even a loan elsewhere? Does Martial play out on the wing? Does he pair Zlatan up front? What does that mean for Wayne Rooney?
Squad selection dilemma goes even deeper
Considering the myriad of players with whom United have been linked in recent weeks and months, it increasingly looks as if the young players who rose so brilliantly last season may not be given the same number of first-team chances in the coming term. With the signing of Henrikh Mkhitaryan imminent-it feels safe in saying that since the club shop accidentally began selling Mkhitaryan kit on Thursday-and rumors continuing to swirl about Paul Pogba, questions then arise as to where Wayne Rooney will fit in. Does he get pushed forward to pair Zlatan in what could well be the slowest striker pairing in the Premier League?
Will Mourinho prefer Rooney's staid attacking movement up front to the incisive, quick runs of Rashford and Martial? Or is the captain slid back into midfield so that Ibrahimovic and the two youngsters can play a front three? There, he's likely to be joined in front of the back four by one of Pogba (should he be signed, which still feels unlikely), Morgan Schneiderlin, Bastian Schweinsteiger or Michael Carrick. A defensive shield in front of the defense would give Mkhitaryan, who was named the Player's Player of the Year in the Bundesliga last season by Kicker, a relatively free attacking midfield role.
Zlatan signing root of problem, seems to lack forward planning
All of that sounds like it would work in theory, but it leaves Jesse Lingard, the hero of the FA Cup Final, out in the cold. As he showed against Crystal Palace at Wembley, he has an eye for goal and loves to push forward. If Rooney is to be deployed with a relatively free midfield role designed to let him get about the pitch and pick out passes, he'll need someone capable of doing defensive duties alongside him. Lingard does not fit that mold.
All of these (potential) selection problems are being caused by Zlatan's arrival. Without the Swede, it would be relatively simple to find room for Rashford and Martial in a starting XI regularly. With him, that becomes far more difficult to do. There's no denying that at the moment Ibrahimovic is a vastly superior option to either the English or French international--Sweden's now-former #10 is one of a select group of players vying for the label of "best player in the world not named Messi or Ronaldo." The problem is that he's 34.
United supporters have already been forced to watch Wayne Rooney's slow devolution from a ferocious striker perennially snapping at the heels of defenders and scoring incredible goals to one who struggles to make an impact on matches. Few will want to watch Zlatan slowly deteriorate in front of them as well. He's a quick fix, a band aid to cover up the holes in the squad, an attempt to appease the commercial sponsors and nick a trophy or two. Worse than merely being a quick fix, he isn't a constructive one. His acquisition creates selection headaches, and will likely restrict the first team opportunities of United's brightest young stars. It would be one thing if the Swede were seven years younger. But he's not. This has all the hallmarks of a quick fix, a desire to win instantly rather than put in the hard work to build for the future. There are tremendously talented young players at United, but the academy is in disarray. A new manager with a poor track record for developing youth has just been hired, and an aging star has been signed to win now, at all costs. The United philosophy has been left behind.
The United Way is central to the club as a whole
The two most famous teams ever sent out by Manchester United were the Busby Babes and Fergie's Fledglings; the core of each team was made up of young players developed in house. They were given the chance to go out and show what they could do, regardless of how old they were. So central was the tenet of giving youth its head to the United philosophy that any supporter can quote back to you the famed quote from Sir Matt Busby, that "if you're good enough, you're old enough."
It's hard to think of any team United took more pride in than the Double winners of 1996, who were mocked by Alan Hansen before going on to prove that you could win with kids. Zlatan is a short-term solution. He's a ploy to win titles now, not for the next decade, which is what United should be planning for. Sadly for those of a red persuasion, he's representative of the "win now at any cost" mentality permeating everything from the boardroom to the tea room to the pitch at Old Trafford. The boardroom is falling prey to the same misconception Hansen did 20 years ago. It won't come back to hurt them this year, but it could over the next several.