Bastian Schweinsteiger gave away a penalty as Germany lost 2-0 to France in the Euro 2016 semi-final on Thursday night.
The Manchester United midfielder was making his 38th appearance at a major tournament – a new international record – but the 31-year-old will now be unable to add to that until the 2018 World Cup in Russia.
Positive performance, negative result
After a slow start in which Antoine Griezmann went close for France after dribbling into the area and unleashing a tame shot, Germany controlled the match until first half stoppage time. However, the host nation were then awarded a controversial penalty for handball against Schweinsteiger, who was also booked for the alleged offence.
Other than failing to halt Griezmann in his tracks for that early opportunity, Schweinsteiger had done well from a deep midfield role in which he cut out several France counter-attacks and even forced Hugo Lloris into a save from a curling effort from outside the area.
However, when France got that late first half penalty, Schweinsteiger didn't get away with allowing Griezmann another superb chance to score. The Atletico Madrid forward converted the spot-kick without any trouble.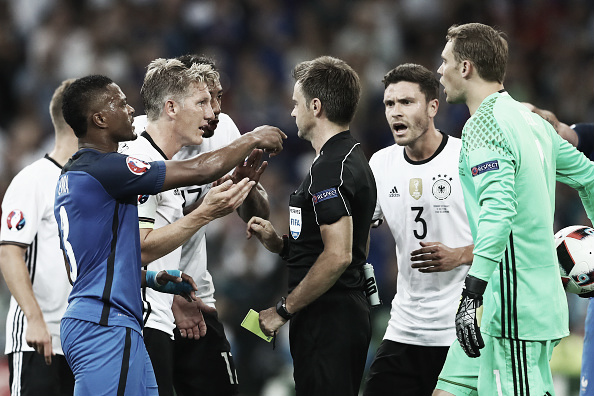 Germany continued to dominate possession in the second half but struggled to create many clear opportunities and began to look more vulnerable on the counter-attack. France did eventually double their lead and although Joshua Kimmich lost possession in his own area and Manuel Neuer unconvincingly punched away the resulting cross, Schweinsteiger again might have done better. Griezmann reacted quicker than the United midfielder to a loose ball and stabbed in his country's vital second goal.
Last United player to appear at Euro 2016?
The United midfielder was replaced by Leroy Sané in the 79th minute but Germany had chances to get back into the game, with Kimmich hitting the bar and having his header instinctively saved by Lloris in the final moments. However, it was soon apparent that this wasn't their night and it would be theirs and Schweinsteiger's final match at Euro 2016.
Therefore, it seems likely that, although Anthony Martial and Morgan Schneiderlin remain a part of the France team that has reached the final to face Portugal, Schweinsteiger's outing for Germany on Thursday will be the last of any United player at this tournament.
Martial hasn't played for France since their second group stage match against Albania and Schneiderlin hasn't featured at all, so United fans will likely have to settle for watching a couple of old faces in the final.
Cristiano Ronaldo and Nani will almost certainly be a part of Portugal's starting team whilst Patrice Evra and Paul Pogba, who has been heavily linked with a return to Old Trafford, are also likely to be involved in Sunday's Euro 2016 final in Paris.