It's been the talk of the summer, the centre of attention of all the transfer sagas, Paul Pogba could be returning to Old Trafford and there has been a lot of excitement among fans about it, a £100 million plus price tag has been in mention, some find it absurd, some are baulking at the money, but it's clear to most, that the player who might be joining the club, is worth every penny.
First Family
When asked about his former club during a recent interview, Paul said that United was "his first family" and that if current manager Jose Mourinho came calling for him, He would "see what he wanted". It's clear from his comments that United still hold a special place in his heart, it's where he began his journey, his rapid rise to the top of European football with his current club Juventus, He has won four straight Serie A titles, The Italian Cup and also the Italian Super cup twice, it's fair to say he's used to winning, which is exactly the kind of mindset Jose wants in his players. Club legend Paul Ince has stated that "Pogba would be perfect for Mourinho's Manchester United". Manager Jose has said that he wants his mystery 4th signing done as early as possible, all signs lead us to Pogba, will he be the star of this team of glittering talent?
Start of a new era
This season is one of huge changes for Manchester United. It isn't like United to wrap up business so early in the window, it isn't like United to get their targets so quickly either, these are signs that a new era is beginning at United, one which the fans hope will have trophies to speak of, star players to praise and great matches to remember. The new boss has already taken care of the star players with the signings of Zlatan Ibrahimovic and Henrikh Mkhitaryan, it would be a dream to complement these signings with Pogba's, it's no question that the Frenchman' transfer back to the club, would effectively make them title contenders. "120 million Euros is a lot of money" Rio Ferdinand admitted, but he is certain that "Pogba is going to be the best midfielder in the world in the next couple of years" and that he could be the start of a "new generation of football at Manchester United, given that opportunity."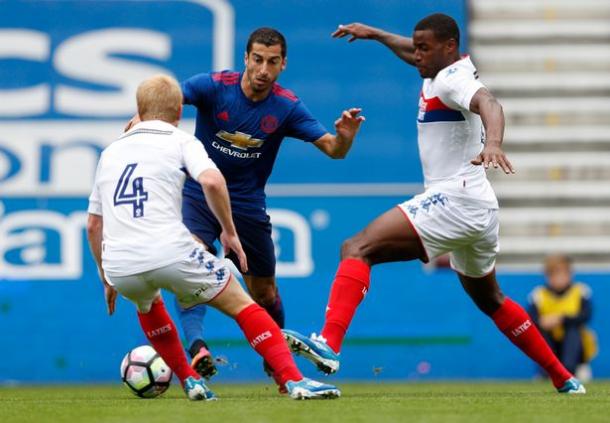 If he does come back, Pogba would definitely be the lynchpin in the midfield for United, he'd be the catalyst, the player for the special moments, special goals ,as he has proven all too often with Juventus, he is one for the big occasion.
It's an exciting future for Manchester United, and one which has already filled fans with optimism and expectations for the coming "Mourinho years", the signing of Pogba would certainly be the dream for Jose, it would be the cherry on top of his cake, there has been talk of a move for Blaise Matuidi as back-up if the Pogba deal breaks down but the all-too-good reality is that, if a transfer for Paul Pogba can happen, no matter what the price, Jose will make it happen.