Ander Herrera says that he is excited to see Luke Shaw return to action for Manchester United.
Shaw has fully recovered from a horrific leg break he sustained early last season after a wonderful spell of early form, ending his 2015-16 season.
But the left-back made his first-team return against Wigan Athletic and was subbed off at half-time, replaced by Phil Jones.
He played the full match against Borussia Dortmund and was booked. It was not a memorable day for the young Englishman after Ousmane Dembele put him down on the turf with some silky skill moves before scoring a remarkable solo goal.
Herrera speaks about Shaw
After the club's 4-1 loss to Dortmund, Herrera spoke to MUTV about Shaw. He pointed out that the left-back had completed 90 minutes for the first time in 10 months. He continued by saying that the club hopes to see the Englishman get more comfortable with the ball at his feet again.
He finished with, "We are very happy with him and we are very happy for him because it has been very tough for him. We have one of the best left-backs in the world and we have to take advantage of him."
Reliving the leg break
In the UEFA Champions League match - PSV Eindhoven, Shaw suffered his double fracture of his leg after a tackle from Hector Moreno.
The full-back went on a mazy run before the Mexican central defender went sliding in to take Shaw out. Shaw was stretchered off and had an oxygen mask on.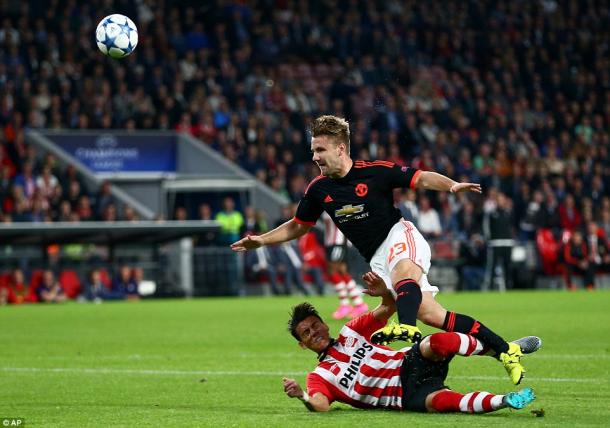 The Englishman was able to train with the squad for last few months of the season but was unable to get on the pitch and was therefore not chosen to play for England at the European Championships.
Despite that, the 21-year-old was determined to prove his eagerness to get back on the pitch. New Manchester United manager Jose Mourinho said that Shaw gave up his holidays in order to get back on the pitch sooner rather than later.
The Portuguese said that Shaw worked every day to get fit but expected him to start the pre-season with limitations. However, he saw that the physical and mental aspect of Shaw's game were very good ahead of his return.
Shaw reaches out
A couple days ago, Demba Ba received a horrific leg break similar to Shaw's. The former Southampton defender sent a video message to Ba after hearing his former Premier League rival broke his leg.
In the video, he offered the Senegal international advice and told him to keep his family and friends close. He finished it off by saying that he sends best wishes and that he will be stronger than ever.