Jose Mourinho has taken no time in putting his stamp on Old Trafford as the new era at Manchester United begins.
Having recruited Ivory Coast defender Eric Bailly from Villarreal as his first signing, the Portuguese swiftly followed that with the capture of Henrikh Mkhitaryan from Borussia Dortmund for a fee in the region of £26m.
The attacking midfielder, has often played as a right winger in the Bundesliga for BVB and is likely to occupy the same role for The Red Devils.
Armenian expects to sit out certain games
Bringing with him to Manchester 23 goals in 88 appearances, the Armenian however still expects to be rotated for particular games. Perhaps with reference to Mourinho's - at times - defensive ethos aswell as Mkhitaryan's lesser qualities in tracking back - a known tick for United's new manager.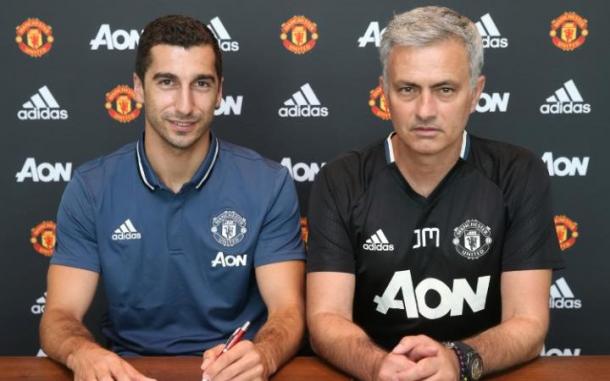 Speaking via the Manchester Evening News, Mkhitaryan states that due to Jose Mourinho's tactical approach, he is philosophical about the realities of the season ahead, despite his hefty price-tag.
"It doesn't matter if they buy me for, I don't know, £38million or £40m", said the Armenian. The 27 year-old adds he knows he is "not guaranteed to play the games" and that "I am trying to do my best during the training to earn this place to play and then we will see. He also feels "I don't think I will play every game, depending on the tactical situation, depending on the opponent, concluding "But I will do everything to try and help the team."
'When you win the difficulties it makes you stronger'
Mkhitaryan also states his belief that playing in the Premier League will improve him as a player"
["Because for me] this is a new challenge and I like difficulties, pointing out that "I like to win the difficulties because when you win the difficulties it makes you stronger." I'm trying to do everything to come up to a new level."
Mkhitaryan has already impressed in pre-season, having netted in the 4-1 defeat to his former club, in Shanghai.