He's played at big clubs all across Europe, scored numerous goals, won various titles and accolades and has captured the imagination of many Swedish hearts.
Now Zlatan Ibrahimovic is here, at Manchester United to prove to all that at the age of 34, he can carry the form and quality he's shown elsewhere into the English top-flight.
The striker has been backed to be a success at Old Trafford by his former national team-mate Henrik Larsson, a former loanee at United, and also to bring the club back to where they belong on the football map.
Swede coming to conquer England?
Zlatan has tasted success everywhere he's been. Ever since his Malmo days, the Swede has gone on to bigger things with each step in his career.
He made his name with Ajax, moved to Juventus to make a great partnership with David Trezeguet and play with some of Juve's greatest ever players. His move to Internazionale brought even more recognition as the winners' medals kept coming for the big man and after three successful seasons with the Italian giants, he moved to Barcelona to be part of a star-studded team that included some great players.
The likes of Thierry Henry, Lionel Messi, Iniesta, Xavi and co. made sure Ibrahimovic had quality around him, but his time at the club was not a very happy one for him and he left after one season to join Inter's rivals, AC Milan.
There, he helped AC conquer Italy in his two seasons but due to financial difficulties, he had to be sold and the newly-rich Paris Saint-Germain signed him up. In France, he went on to do virtually everything. Winning trophy after trophy in each season, he became their all-time top scorer and in his four years there, proved that age is just a number.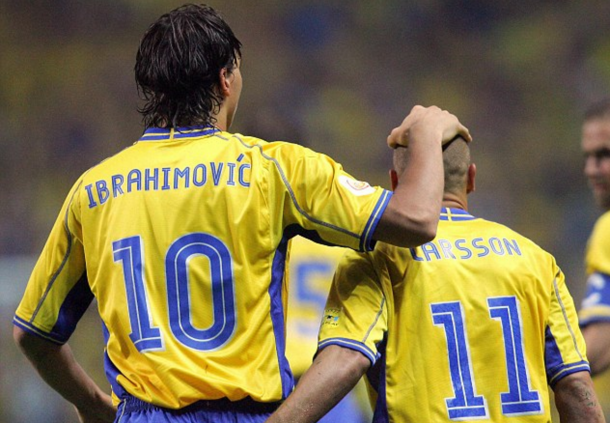 And now he's here, in England, to prove that he still has much to offer on the big stage and be a part of the team week in, week out. It won't be easy, but fitness wouldn't be an issue for Zlatan, he always stays in shape, and he will need everything he can give, because the Premier League may well be the Swede's biggest challenge yet.
Nevertheless, he has been backed by Larsson to bring United back to the pinnacle of European football.
"I have to hope everything goes well now when he comes to Manchester United. Hopefully, he can bring United back to where it belongs," declared the former Celtic legend.
Larsson told Manchester United's official website that Ibrahimovic is "gigantic" back in their homeland and that "everyone knows of him and everyone knows about him" as he continued to say that he is "a pleasure to watch" because of "the technique he has and the skills he has."
He added that his countryman's age "won't be a problem" because "he takes care of his body" and is "a fit guy." Larsson continued: "I hope everything goes well because United deserve it and he deserves eery good thing that is happening to him."
Zlatan has also been backed by one of United's very own, Bryan Robson, to make an impact on the team and the club, similar to that of Robin Van Persie, whose goals helped United to the league title in Sir Alex Ferguson's last season in charge of the Red Devils.
Ibra's initial signs are encouraging
Indications are that he will be a hit at his new club and going off his first performance for the club, United and Ibrahimovic may enjoy a fruitful future together.
The striker grabbed a trademark acrobatic goal against Galatasaray in United's final pre-season game before their meeting with Leicester City for the Community Shield on August 7.
Zlatan is a different kind of player than Larsson was for United, in 2007. He is still a striker who can be depended upon to deliver the goals for the team and bring some great qualities both on and off the pitch.
He will be a leader and a role model to the attackers currently at United and they are most definitely excited to work with the Swede. His determination to keep playing for the big clubs is something great, people think he's on the wrong side of his 30s and that his career may as well be over, but it is worth noting that he rejected an offer from David Beckham to play for his club, Miami FC.
The chance to play under his good friend, Jose Mourinho was an opportunity that the former Swedish international simply couldn't say no to and United fans will hope Ibrahimovic was right to make that decision.