Timothy Fosu-Mensah will stay at Manchester United despite rumours of an imminent exit, according to his agent Jonathan Barnett.
Some reports earlier this week had suggested Fosu-Mensah was one of nine players who were told by Jose Mourinho that they weren't a part of his plans for the coming season.
Going nowhere
However, Barnett, who only recently became Fosu-Mensah's new agent, has insisted that his client will not be leaving Old Trafford.
When asked about a possible exit, Fosu-Mensah's agent told the International Business Times: "There is no truth in it. These reports are complete rubbish."
Fosu-Mensah and Barnett linked up earlier this month and more recent reports have now suggested the versatile Dutchman is close to signing a new contract with United.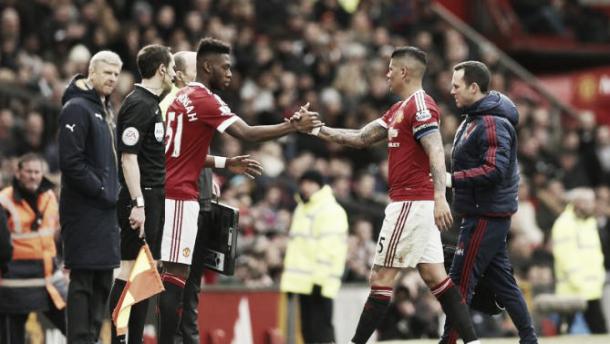 Mourinho clarifies absence
Rumours about a possible departure for Fosu-Mensah started after it became clear he would not travel with United's squad for the pre-season match against Galatasaray on Saturday, which Jose Mourinho's men won 5-2.
However, after the man himself posted a message on Twitter on Thursday, stating that he was "recovering", Mourinho went one step further to clarify Fosu-Mensah's absence before his side travelled to Sweden on Saturday.
Speaking to MUTV, the Portuguese boss said "Fosu-Mensah is not so much injured", explaining that "he has this little thing that we want to be careful with given that he is young.
"He is separate from the group until he is 100 per cent back."
A promising start
In ten appearances in the latter stages of last season, Fosu-Mensah showed why he is considered as such a promising prospect.
The Dutchman played all over the place to good effect, including across the defence and in central-midfield. That even included a 90-minute appearance at centre-back in a home win against Watford, as Fosu-Mensah even helped United to keep a clean sheet.
The youngster also started Mourinho's first match in charge at right-back, a 2-0 away win against Wigan Athletic, and was in the squad for the club's tour to China but did not feature in the only match against Borussia Dortmund.