Dull is something Manchester United's upcoming season certainly will not be.
Not with José Mourinho. Or Zlatan Ibrahimović, for that matter.
The sheer relief from the arrival of the Portuguese, despite Louis van Gaal's FA Cup victory, has been, although expected, remarkable. The honeymoon period of Mourinho's United career, whether it shall be short - in continuance with his previous roles - or unprecedentedly long, is soon to fade away.
A scrutinous assessment of Mourinho's actions will follow very quickly.
He will be the centre of attention, even if a certain Swede shall entertain a large audience of expectant journalists.
Zlatan is proving himself, a Premier League player for the first time in a lengthy, prestigious career. Mourinho is proving himself, his doubters many after a dismal title defence with Chelsea. Manchester United, most vitally, must prove themselves and avoid slipping into a rut similar to that of their bitter rivals Liverpool.
Last season - FA Cup winners but dull and frustrating
Manchester United are now hoping to speed away from a turbulent season. An FA Cup win, albeit in the greatest fashion, Mancunian Jesse Lingard striking in extra time, was scant consolation for a dreadful nine months.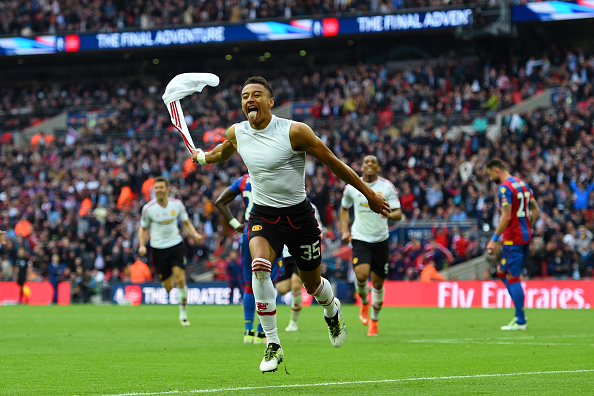 As the transfer window came to a dramatic close, the expensive acquisition of Anthony Martial astonishing the world and drawing ridicule, United's positions and prospects were great. They had, it then appeared, finally filled a gap in midfield and progressed to the Champions League group stage with relative ease. They had, in fact, also conceded just three goals in the opening six games.
United, slowly coming to fill Louis van Gaal's 'philosophy', looked a threat to Chelsea, Arsenal, Manchester City, and, well, Leicester City.
Unfortunately, it was that philosophy that sent them into a dull spindle, although providing much hilarity for those with no connection with the club.
United won just 53% of their games in 2015/16. Even in that majority, there were some dismal performances, notably the narrowest of victories over Sheffield United in the FA Cup.
Even then, many other performances could defeat it in the disappointingly competitive competition of the worst moment of the season. Perhaps the most disheartening moment was, despite magic from Anthony Martial, a 3-2 loss to West Ham United in the penultimate league fixture of the season. A win and United may have been in the draw for the Champions League. A win and van Gaal may still be at the helm, however.
Another 3-2 loss, many months earlier, against Vfl Wolfsburg was a similar display of defensive ineptness and a distinct lack of game management ability. That defeat saw United crash, without any dignity, out of the Champions League... at the group stages.
Even the Europa League held some frightfully awful displays. A 2-1 loss against Danish side FC Midtjylland could only be dealt with by distraught United fans with laughter at their own team. That was one of the moments that a majority turned against van Gaal.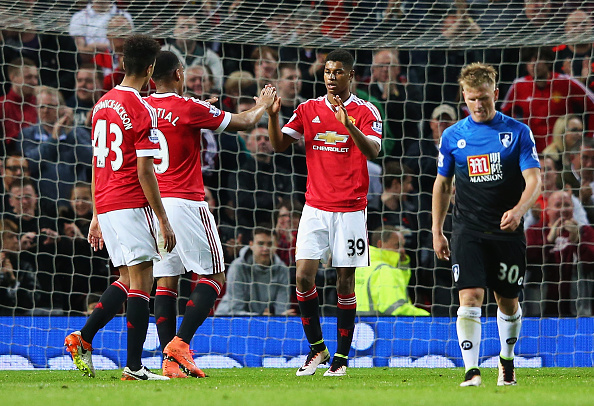 Still, more losses and embarrassments were often forgotten due to a select few moments of magic. Anthony Martial's Henry-esque debut strike in the North-West derby will be remembered for many years. As will Marcus Rashford's... everything. A debut brace against Midtyjlland, as United briefly found their true selves. A league debut brace against Arsenal, a stunning strike in the Cup against West Ham. Rashford's rise, fairytale-like, was astonishing and, particularly if he capitalises on the experience of new arrival Zlatan Ibrahimović and succeeds further, will live on too.
Four of United's five biggest wins came away from league football and, as "playing football the Matt Busby way" was forgotten, cast into the past, they scored five on only one occasion.
United finished level on points with rivals Manchester City, but they did not deserve to. Perhaps the final few games of the league season epitomise United during 2015/16. Hope from Martial but dismal defeat and failure.
United fans can expect a change in style under Mourinho
There are two striking adjectives that will come up, should history repeat itself, in the next season for Manchester United; controversy and success.
José Mourinho's pre-season has been traditionally serious, even Wayne Rooney's testimonial. Tactically, it has been interesting.
His career has spanned over changes in football, and he has adapted to his various locations, at all of which he has won a league title.
With FC Porto, the 4-4-2 diamond that is still infrequently employed these days by the Portuguese was his select choice. Yet at Chelsea, where the term "parking the bus" was coined, Mourinho often used a 4-3-3 with two holding midfielders. The 4-2-3-1 tentatively introduced at Inter Milan, the host for his treble success, is now the favoured choice.
United fans are likely to see that consist of a three-man midfield at all times. Mourinho will allow opposition teams, although perhaps not against the highest quality opposition, to use the wings. In these areas, defence will be very limited. Instead, the central areas are crowded by narrow full-backs as well as a three-man midfield. For Mourinho, this is where victory is determined, the central zone of midfield and the penalty area, not the surrounding areas.
Compared to Louis van Gaal's high defensive line which attempted, not always with success, to win the ball back quickly, Mourinho adopts a deeper defensive line, again allowing crosses but not allowing vertical penetration into the 18-yard box.
United fans could finally see some counter-attacking football again, a trait of Sir Alex Ferguson's sides against the very best teams. Mourinho's defence is deep but Mourinho's attack must burst out with extreme speed to capitalise on defensive errors from the opposition.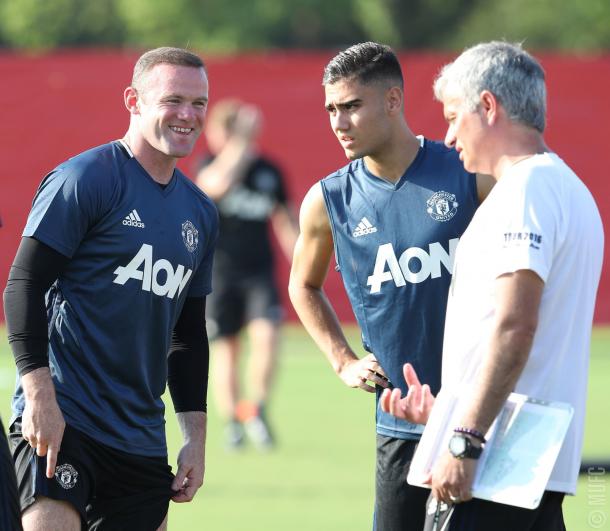 The attacking roles will be interesting. Zlatan Ibrahimović and Wayne Rooney share admiration but can they share a football pitch? Zlatan is known for aggressively responding to other players, like Lionel Messi at FC Barcelona, drifting into his space. Ibrahimović, in fact, actively seeks to drift into the space that would be considered that of a traditional number 10. Rooney, meanwhile, could be deployed as a secondary striker and the space for Ibrahimović to roam in will decrease, possibly decreasing his impact.
In contrast, Marcus Rashford presents an option that allows Ibrahimović to drift and play as both number 9 and number 10. Rashford will provide the runs behind defensive lines that no one in the United squad is able to do.
Amid all this is Anthony Martial, likely to continue as a left inside forward. Henrikh Mkhitaryan played as a right winger for the majority of pre-season while Juan Mata, to some surprise, is set to stay at the club and challenge Mkhitaryan's place.
Manchester United successful in the transfer market
Despite a common, lazy assessment that Manchester United's squad needs major reshaping to compete for the Premier League title, to reach the heights of a decade ago, Mourinho has brought just four players in. Ahead of the Community Shield, Mourinho confirmed four was a maximum, the Portuguese showing particular faith in Eric Bailly.
Without hastiness nor carelessness, Mourinho has been ruthlessly selective of his purchases, unlike some of his predecessors. United have "decided to bring four players and not 10. We decided to bring in players that are Manchester United level. We decide to bring four that we think can really improve the squad and not just be one more player. This is the profile of our market."
Zlatan Ibrahimović and Henrikh Mkhitaryan certainly fit such a bill, Paul Pogba will do so to a further extent. Eric Bailly, meanwhile, is described by Mourinho as a "young central defender that needs time to be a top one."
Mourinho, and in contrast to previous years the board, including Executive Vice Chairman Ed Woodward, has had a very successful summer.
Pre-season overview
It was a short pre-season for Manchester United. A Manchester derby in the surreal setting of Beijing was cancelled due to weather and pitch condition.
Wigan Athletic 0-2 Manchester United – July 16th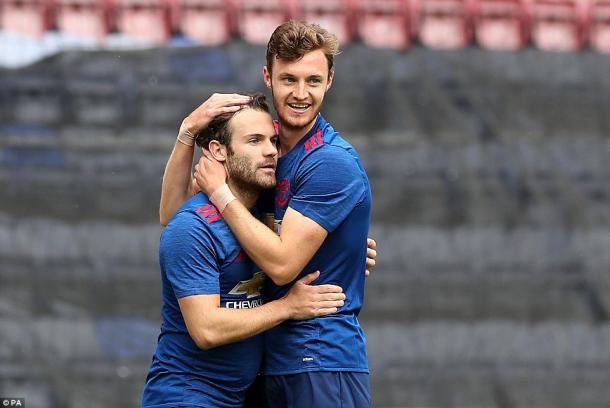 Henrikh Mkhitaryan and Eric Bailly made their debuts in a 2-0 victory against Wigan Athletic. At the DW Stadium, Juan Mata scored the first goal in the Mourinho era.
Manchester United 1-4 Borussia Dortmund – July 22nd
In the first game of the pre-season tour of China, United were outclassed by an impressive Dortmund side. Ousmane Dembele, a new signing for the German side, was exciting to watch and scored past de Gea, while Gonzalo Castro scored a brace. Ultimately, the contrast in number of matches played prior to this game was reflected in the result. Henrikh Mkhitaryan did get his first United goal, facing his former club.
Manchester United 5-2 Galatasaray – July 30th
Zlatan Ibrahimović scored an overhead kick within the opening five minutes of his debut in his home country Sweden. United then went down 2-1 before a double from captain Wayne Rooney and a further two from Juan Mata and Marouane Fellaini saw United put five past Galatasaray in a positive performance.
Manchester United 0-0 Everton – August 3rd
Wayne Rooney's testimonial won't be remembered for many years. It was good to see the all-time top England goalscorer have his 12-year United career celebrated ahead of the new season, but the quality was poor and the tempo slow.
Players to look out for
Zlatan Ibrahimović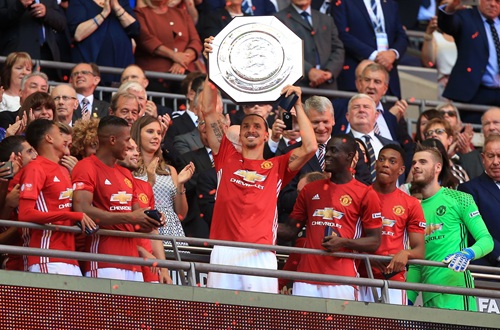 An obvious suggestion. The Swede has scored more than 20 goals for the past nine consecutive seasons. The football world will be watching, assessing, criticising, but Ibrahimović responds to such pressure well. He has proved match winner on one occasion already, in the Community Shield last Sunday, a superbly guided header that dribbled in off Kasper Schmeichel's post. United fans will be expecting him to do so again, and again, and again.
Henrikh Mkhitaryan
Another new signing, but one that will likely go under the radar. Mkhitaryan isn't the ego that Zlatan is, nor does he have similar stature. If he can continue the scintillating form that he showed at Borussia Dortmund last season, he'll be one of the league's finest footballers.
Luke Shaw
The ever-so-common cliché, 'like a new player', fits Luke Shaw. After his horrific double leg break last September, the England full-back is looking to make up for lost time under a new manager and return to his best. It will take a few games for Shaw to do so but after a good pre-season, the prospects of him returning to his best look good. His impact, particularly behind Memphis Depay, at the start of the last season was large. This season, he'll play behind Anthony Martial, United's new number 11, in the majority of games and that partnership could blossom into something spectacularly entertaining and effective.
Manchester United's strengths
Manchester United have their aura back
The managerial change and the high-profile transfers has seen Manchester United, partly, regain their aura back. It was lost with the monotonous and unsuccessful football under Louis van Gaal, while the David Moyes era was humiliating. United are confident again and Old Trafford could become the "fortress" it once was, as José Mourinho made Stamford Bridge such during his two spells at Chelsea.
A clinical finisher
Zlatan Ibrahimović, as he showed with his first goal against Leicester City, finishes chances. That was an obvious error with United's performances last season because, contrary to common belief, United had many shots on goal. Their return from shooting last season was abysmal, that will change with Ibrahimović.
Abundance of attacking talent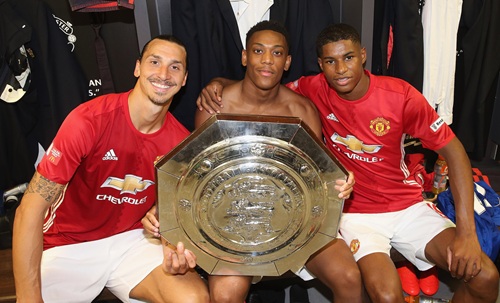 Zlatan will lead the attack as number nine. Captain Wayne Rooney is also likely to be a regular in attack. Meanwhile, Martial, Mata, Memphis and Mkhitaryan provide alternative options. Should Mourinho need to go deeper into his squad, Januzaj, Wilson, Pereira are available.
Manchester United's weaknesses
Defensive squad depth
The addition of Eric Bailly, whom Mourinho has placed great trust in, was much-needed. Perhaps another centre-back, however, was required. Chris Smalling and Daley Blind are alongside Bailly as first choice defenders but Marcos Rojo and Phil Jones are yet to show they have the quality to play for Manchester United. Bailly will leave for the Africa Cup of Nations in the early months of 2017, where United face Liverpool, Leicester City, and Manchester City. At that point, with the FA Cup also beginning and a potential UEFA Europa League knockout round, Bailly will be missed as the lack of centre-back options, or high-quality options, becomes evident.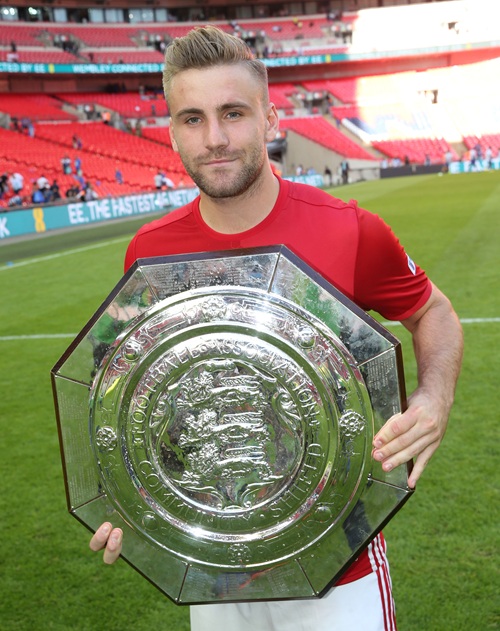 At full-back, United are short on options too. Marcos Rojo appears to be Shaw's understudy but is not good enough. Matteo Darmian and Antonio Valencia are both hard workers but lack the quality to be United's first choice right-back. Cameron Borthwick-Jackson can aid Rojo in replacing Shaw should the Englishman suffer an injury or need a rest, but other than the youngster, United must hope Shaw keeps fit to prevent weakening their side significantly.
The remnants of Louis van Gaal
Van Gaal's "philosophy" unfortunately still lingers in the Manchester United squad. He restricted freedom and expression, which still shows in the current performances of this side. Mourinho will banish this issue soon, but the start of the season could look similar to a van Gaal side because of the impact he had on the squad.
Young player to look out for
Timothy Fosu-Mensah
The centre-back cum right-back cum defensive midfielder is one of the finest talents to emerge from United's academy in many years. His stature at such a young age is remarkable while his composure shone through in the back end of the 2015/16 season. There have been suggestions of converting Fosu-Mensah, due to his ball-playing ability, to play permanently in midfield but Mourinho has been unable to use him thus far due to injury. Fosu-Mensah has immense ability, and immense physicality. Mourinho will like him, Fosu-Mensah could be one of the few younger players to get a chance under the Portuguese.
Predicted finish for Manchester United
3rd: United look set to challenge for the Premier League title for the first time since Sir Alex Ferguson retired, going out with the club's 20th title victory. Yet they still look unlikely to climb the five places needed to win the league, but Mourinho's impact, as well as that of the high-profile signings, could see a 21st title head to Old Trafford.