Manchester United manager Jose Mourinho says that Juan Mata is fine despite being taken off after coming on as a second-half substitution.
Mourinho substituted Mata due to Leicester's direct approach
Mata was brought on by Mourinho in the 63rd minute to replace Jesse Lingard but was then substituted in injury time for Henrik Mkhitaryan which left people questioning what the manager was playing at.
The Spaniard obviously wasn't happy to be brought off but Mourinho explained to him that it was a tactical substitution in order to defend high balls into the box in the final minutes which Mata would struggle to defend against.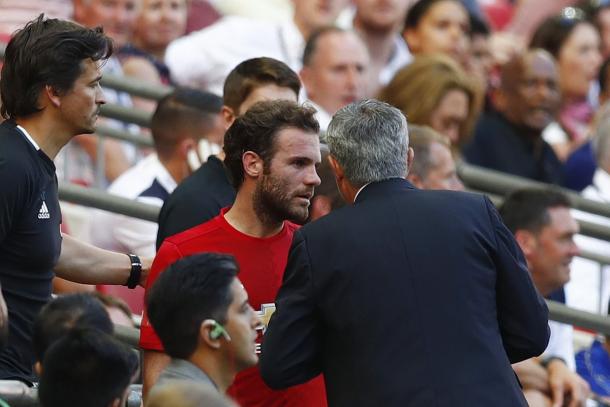 Mourinho acknowledged that he did something bad saying "I know I did something which is not nice" to Mata but when Mourinho explained to him his reasons he said the playmaker is "happy now." The boss continued to say that "the rules allowed six changes" and to stop Leicester City's momentum it was a key substitution to "stop the game, to kill time" and to choose who to bring off Mourinho said he had to "pick the smallest one" to come off in order to clear Leicester's high balls.
Mourinho happy with Mata's performance against Leicester
The Portuguese boss also went on to say that Mata "played very well" and that he gave the experienced manager "exactly what he needed" during the small amount of time that he was on the pitch. Mourinho says that with Leicester putting in the "long balls, throw-ins" it was important to not take off players such as "Ibrahimovic or Fellaini for sure" as they could clear the important crosses, so in the team "Mata is the smallest one" so it was a tactical switch to see out the game.
The whole situation with Mata was heightened due to the fact that Mourinho sold Mata during his time as Chelsea manager in the 2013/14 season and many people feel that he will do the same thing with him at United.
Mourinho, though, has played Mata quite a lot in pre-season which shows he is part of his plans and the Spaniard is also very popular with the United fans so they would not be happy if he was to be sold.