Rafa Benitez doesn't have an easy start to his tenure at Newcastle United as his side are pitted against table-toppers Leicester City in his first game in charge.
It's been a pretty hectic week for the North East club, with the public unsure whether Steve McClaren would actually be sacked last week. Once he was relieved of his duties, it was quite a shock that Benitez was handed the role.
The fans will now hope that the players can change their ways for Monday's game and cause an unlikely upset.
Background
Recent history doesn't make good reading for the Magpies as Leicester have won the last three encounters between the two sides - you would have to go back to late 2014 to find a time when Newcastle came out on top.
Those last three games have been pretty convincing as well, Leicester scoring seven goals and Newcastle none.
Both teams come into the game though in different veins of form.
Leicester haven't let up and have won five of their last seven games, scoring in each of those. The only defeat came against Arsenal, whilst they mustered up an uncharacteristic draw against West Bromwich Albion.
Newcastle, on the other hand, just can't buy a win. They have on won one of their last seven Premier League games. Their last game was at home to Bournemouth, which all in all was a pretty embarrassing home defeat at the hands of Eddie Howe's side.
Team News
Benitez will have to assess the fitness of a number of players before Monday night's game. Paul Dummett and Fabricio Coloccini will more than likely not make the trip, both struggling with injuries that they've had now for a few weeks.
Andros Townsend will be hoping that he can shake off a hamstring injury that has kept him out of the last two games - all of the other long term injuries are still the same.
There are no real worries for Leicester heading into this game, with a positive being that Matty James has returned to training after a knee problem.
Players to Watch
Ayoze Perez: Under McClaren, the promising Spaniard struggled to get a consistent run in the team which people argued was wrong. He is one of Newcastle's flair players, and with Benitez the new man people will be hoping that he can get the best out of Perez - and that he can show his class.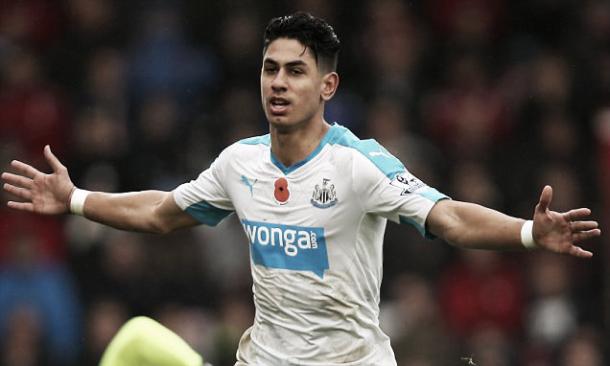 Jamie Vardy: With Newcastle more than likely fielding an inexperienced back line, this man will be vital in finding the holes that could be there. With the likes of Riyad Mahrez and Danny Drinkwater in behind him, the pace Vardy has will be key in breaking the deadlock against Benitez's new side.