It was another dismal afternoon for the Newcastle United as they fell 3-1 to Southampton at St. Mary's Stadium.
The Magpies never seemed to be in the match in what was certainly their worst performance under savior hopeful Rafael Benitez. Every point matters as the Premier League season comes to a close, and each loss inches Newcastle closer to the drop.
Southampton off to a flyer
Southampton took control of the match as soon as the whistle blew and never relented. It didn't take long for the hosts to go ahead with Shane Long scoring the opener in the fourth minute. The Newcastle defence must have been taking a nap as Long simply went by any defender with relative ease before tucking home and reeling away in celebration.
There wasn't a single point throughout the half that suggested Newcastle was capable of winning this match. The defence was miserable and the midfield was completely incapable of linking any play forward. Southampton comfortably held on to possession all while slowly working to add to their lead.
And add to their lead they would. Daryl Janmaat tragically lost his footing as Dusan Tadic came in from the left to play a pass into Long. The Irishman's first touch was a bit too heavy, but Graziano Pelle was there to clean up and guide the ball into the bottom-right for Southampton's second of the match. Janmaat would have to leave the game injured, further weakening Newcastle non-existent defence.
The Magpies came out of the break looking far better with Aleksandar Mitrovic finally seeing some of the ball. A sense of urgency seemed to emerge from Benitez's men, as if they just now realized that relegation is just around the corner with a loss.
However, the hosts would put any comeback hopes to rest with a third goal. Jose Fonte took a close range shot off of a Southampton corner. The ball would come to Victor Wanyama who deftly placed his follow up into the bottom corner.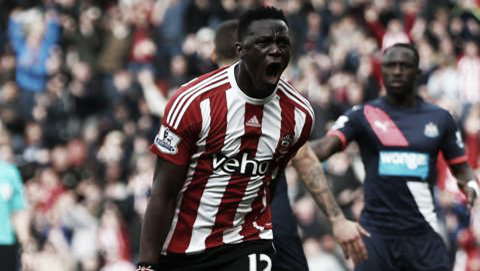 Too little too late for Newcastle United
The visitors did well to respond, finally testing Fraser Forster in the Southampton goal. Andros Townsend would prove the most dangerous, threatening Forster from the right and forcing a magnificent save.
Townsend would eventually beat Forster to give Newcastle a slight glimmer of hope. Cutting in from the right side, Townsend struck a beauty of shot off his favored left foot right past Forster into the top right. If there was any positives to draw from match, that was it.
The match would finish at the 3-1 score line in a match that saw little resistance from the Magpies. Relegation looms ever closer for Newcastle with every loss. If they can't pull off a great escape, it will be a sad day for English football as Aston Villa and Newcastle United, two clubs with great tradition, fall from the Premiership.