Newcastle United enjoyed their first league win at home against Francesco Guidolin's Swansea side on Saturday which could be vital for their Premier league survival hopes. Here are five things we learnt from the game:
Benitez's presence has given hope to players and fans alike
There is no denying Rafa Benitez's talent when it comes to the Managerial role. Having significant impact at Liverpool and Real Madrid most notably, Newcastle fans have the leadership and guidance of a man who knows what he is doing, something that was clearly lacking under their past two appointments in Jon Carver and more recently, Steve McClaren.
Under Benitez, Newcastle look more solid at the back and are more organised in almost every position on the pitch and this game proved it. Benitez's decision before the game to make five changes to the squad and give the captaincy to a player who has underperformed of late caused quite a stir amongst the home faithful, however it was a decision that paid off without question.
In this game Newcastle had certainly shrugged off the disappointment of last week's trip to Southampton and looked solid and compact. The team attacked well and defended a lot better than last week's disaster. With confidence seemingly creeping back into the side, Newcastle secured a pivotal 3-0 win over Swansea with each goal adding more and more confidence on a side that had looked like it had been drained.
It's fair to say that the position of captain rejuvenated Moussa Sissoko's performance this game who seemed fired up from the first minute and his goal in the 82nd minute sealed the win for Benitez's team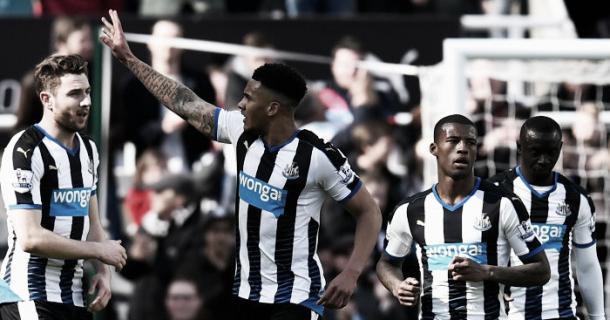 Jamaal Lascelles could be the difference between the Premier League and the Championship
Rafa Benitez's decision to include the 22 year old proved to be a valuable asset as the Newcastle defender contributed significantly to the teams overall performance in both attack and defend. It could be arguable to suggest Jamaal Lascelles was instrumental in Newcastle's victory today as he really stood up to the challenge and the pressure of the game.
Lascelles controlled the game like a player more experienced than his actual years, contributing significantly to the somewhat dogged defending in the Second Half, resulting in Newcastle picking up their first clean sheet in 18 Premier League games as well as Karl Darlow's first as Newcastle keeper.
The Newcastle defender also did his job attacking as well, with his grit and determination messily heading in a corner from Andros Townsend who also looked mightily impressive yet again, sealing the game to make it 3-0 after slotting home a pass from Alexander Mitrovic.
Nerves still to be found
Though the score line suggests it was a comfortable afternoon at St James Park, it was still a very nervy atmosphere all-round. The first half was pretty dismal from both teams until Lascelles headed in the first goal.
With Newcastle anxiety at an all-time high, Swansea were able to increase the pressure and in the Second Half, they could have scored numerous times as Ashley Williams, Jefferson Montero and Bafétimbi Gomis all had possible chances to close the gap. Fortunately for the home faithful, Swansea's finishing leaved little to be desired as all were blasted wide of Darlow's goal. It wasn't until the second goal that the fans and players felt like they were safe which just goes to show that the confidence of Benitez's players is still low in relation to their own ability.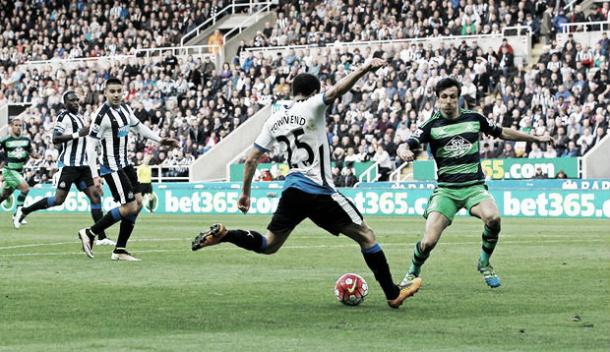 Goals have finally come for Newcastle
It's been a very long time since Newcastle were able to recall a victory in the Premier League and finally goals have begun to creep in for the relegation potentials which could help to salvage the wreckage their season had become.
Newcastle's last win came against West Bromwich Albion at home in February and this will provide a massive confidence boost to the players and their upcoming struggle with the relegation battle against Norwich City and arch rivals Sunderland.
Andros Townsend looks to be one of the key attacking players whose performances of late has meant he has already assisted as many Premier League goals for Newcastle (two) in eight appearances as he did for Tottenham in 50 appearances and has scored in his second consecutive game at the weekend.
Could Newcastle survive relegation?
This is the question on every Newcastle supporter's lips after their rejuvenated performance at the weekend.
There is now certainly a possibility as Norwich lost points to Sunderland at the weekend that means that Newcastle are only three points adrift of the relegation leaders. With all teams having a difficult run of games in the next few weeks, the battle for relegation will go down to the wire.
A bonus for Newcastle and their fans is the fact that they arguably have the easiest set of fixtures as they are set to face already relegated Aston Villa and dwindling Crystal Palace. Though this is purely speculation, results should swing in the way of Newcastle, however with Sunderland having a consistent goal scorer in Jermain Defoe and a high team spirit, the battle for survival could be between the two North East rivals.