Rafael Benitez revealed in his press conference on Wednesday evening that the supporters influenced his decision to remain with the now Championship club.
The media and supporters that surround the North East club fully expected Benitez to part company with the club when relegated arose.
Since Benitez was appointed in March 2016, those on Tyneside have really taken to the former Liverpool boss with some calling him the biggest manager since Sir Bobby Robson.
This sparked Rafa mayhem when it came to chanting in the stands, with the well publicised Rafa Benitez song, in tune to La Manga, being the vocal point of fans affection for their manager.
And it was that chant what was sang throughout the 5-1 victory over Tottenham Hotspur while signs were held by fans pleading him to stay. It could have been a day that saw fans vent their anger after their relegation. But instead, it was a day that was dedicated to Benitez in making sure the Spaniard stayed at St James' Park.
Benitez swayed by terrific support
When asked if it was impossible to walk away after the reaction he received against Spurs, Benitez said: "Yeah it was very difficult. As I say, the fans are a major factor in my decision.
"There were a lot of things, the first one was the fans, the stature of the club, and the future. I have seen all these things together.
"When I came here it was because of those reasons. Since I have been here I could see those things everyday - especially in the last game when you could see the fans backing the team."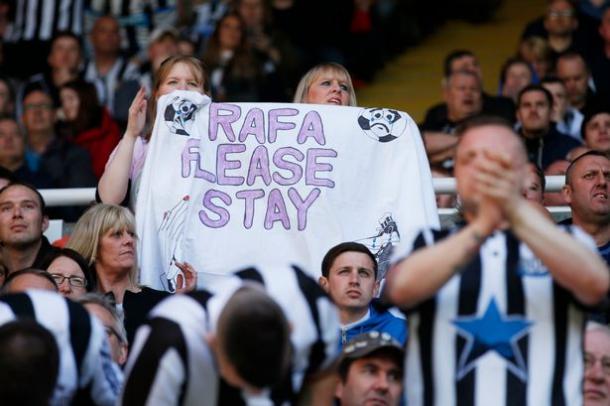 Past Newcastle managers have struggled to gain a good relationship with the local press, with ex managers like Alan Pardew regularly criticised. But with Benitez, there hasn't been a problem.
Benitez said: "I even have to say thank you to the press because you have been very supportive.
"There are a lot of positive things here from day one. My family is in England and I wanted to stay here too.
"I am really happy and pleased to be here."
Benitez will stay at the club till 2019 and he will be looking to bounce back to the Premier League at the first attempt. Despite relegation, he says he sees Newcastle as a great project.
"I needed a new challenge and new project. I can see the size of the club, it's massive.
"When I finish this press conference, I will start working."
And when the ex Real Madrid manager was asked if the club could come straight back up, he said: "I am here because I am convinced we can go up next season, stay there for a long time and even win trophies."