Rafael Benitez has named Spanish coach Mikel Antia as his new assistant at Newcastle United.
Antia replaces Fabio Pecchia less than 24 hours after Newcastle announced that he had left to take up the management role at Serie B club, Hellas Verona.
Benitez used to manage Antia as a player when in charge on the Real Madrid academy and Real Valladolid. This will be the first time that the pair work together in a coaching set up.
The appointment may come as a surprise to some fans, with Antia having no previous experience of managing alongside side Benitez. Some of the Toon boss' previous assistants are out of work, suggesting that Benitez would have approached one of them.
Antia spent his entire playing career in Spain with spells hometown club, Real Sociedad, Elche and Ponferradina before his career came to end an in 2006 at Real Union Club.
Benitez "delighted"
In an official club statement this afternoon, Benitez revealed he was delighted that Antia agreed to join him on Tyneside: "I am delighted that Mikel is joining my staff."
And despite Antia never working with Benitez in a coaching sense, the Spaniard believes he is a talented coach: "He is a very talented coach and I know he will add expertise to my team."
An emotional goodbye
Pecchia has assisted Benitez at his last three clubs in Napoli, Real Madrid and then Newcastle United.
​In the club statement, Benitez continued on from yesterday when expressing his sadness on Pecchia's departure: "At the same time, I am sad to see Fabio depart," stating his professionalism as something he'll miss: "He has been an excellent professional from the first day until the last in the years we have worked together."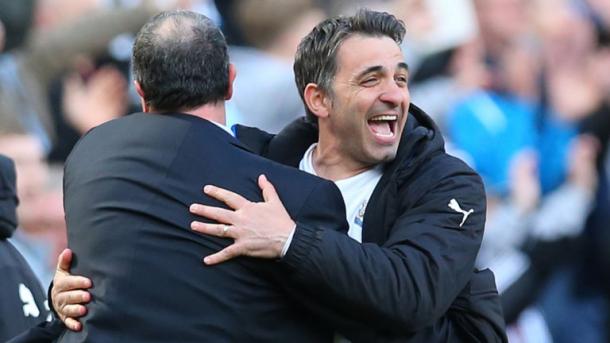 All the best for the future
The Italian coach returns to Italy in first management role since 2013 where he last managed Latina. With the experience Pecchia has had with Benitez, he will no doubt return to management as a better coach.
It is a challenge for Pecchia which Benitez labelled as "new" and "exciting.
"He leaves to face these new and exciting challenges, both personally and professionally.
"I wish him all the best and say thank you."